I have to admit, today might not have ended well.
You see, I cycled into town with the intention of eatingforafiver. In my post-Christmas/NewYear state of subcutaneous plenitude, I knew I didn't want to eat noodles, anything battered and deep fried or anything reheated in oil. I didn't really feel like cycling over to the North side of the city either, so my search was kind of limited to the South inner city area.
On my way, I passed Buffalo 19 (see review here). It doesn't open at lunchtime any more and there was no sign in the window about its previous €5 offers. I passed Ambala (see here). Its Masala Dosa now costs €5.50.
I thought about the little place (Café Sophia) next to the big motorbike shop at the bottom of Wexford Street. It has some all-day breakfast offers for a fiver that I might try some other time but not today thanks. There was another place I passed, at the junction of Camden Street and Kevin Street, which used to be Fafie's crepe place. It's called something else now, something to do with goose or geese. It (still) does crepes but nothing that said 'eat me'.
Next stop, Clanbrassil Street. There's an Asian restaurant there near Kebabish that specialises in Asian sweets. It also does non-sweet food and, driving past it recently, I thought I saw a fiver offer. It wasn't open.
It was now after two o'clock. My hunger thing was very much on and I was descending into mild grumpiness. I cycled back to Camden Street.
On a recent bus journey, I had seen what looked like a new place near Carvill's off licence at the top of the street.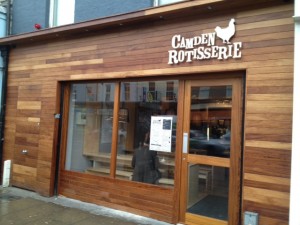 This is it – Camden Rotisserie. They have a Facebook page: here. As you might guess, it specialises in chicken: roasted, not fried. And (yay!) it had something on the menu for under a fiver. Tick.
I LOVE chicken. I mean I REALLY LOVE chicken. So this place is right up my street. I'll let the menu speak for itself:
A quarter chicken for €4.25? OK. Feed me and we'll ignore the strangely placed apostrophes (wings's and side's) for now.
The decor is pleasant. Four long tables with benches either side. Bright but not harsh. A large blackboard on one wall (on which you are invited to draw your own chicken). Kitchen area at the far end. Service is friendly and attentive.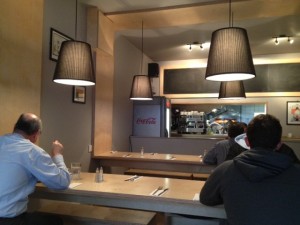 There were eight diners including me there. All men, which was strange but probably coincidental (although you won't see many women on their Facebook page either). But there's nothing overly masculine about the place, so … well, I don't know.
My quarter chicken arrived.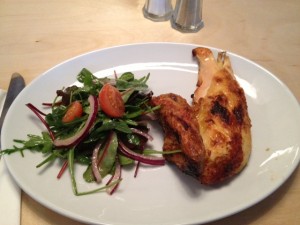 Excuse the terrible photo. It actually looked a lot better than that in the flesh, so to speak.
The salad/ garnish was unexpected but gorgeous. Baby leaves, red onion, cherry tomatoes with a nice, subtle balsamic-based dressing. Perfect, actually. And I don't often say that about a garnish.
The chicken was good. Very good. It was, as you can see, a wing and accompanying piece of breast-meat. The skin was crispy and barbecue-blackened in places which was good. And the chicken tasted of chicken, which is not always the case in restaurants. This was a very tasty lunchtime meal in a pleasant, clean restaurant, for €4.25. It ticked all the boxes.
Camden Rotisserie is now firmly on my list for a further visit. It's not a place for a long romantic dinner a deux but it is good value, it serves healthy food (I like the look of their omelettes too), it's clean, it's friendly and it's on a street I like.
I was put in a good mood by my eatforafiver experience today. So I was encouraged to be more observant on my way home about future eatforafiver venues. I spotted three: the Aussie BBQ on South Richmond Street (loads for a fiver or less), Burdocks in Rathmines (Monday and Tuesday specials for €5 and €4 respectively) and, if you are a school student (in uniform), the Jaffa Thai, opposite the Garda station in Rathmines, at certain times of the day.
I was going to have a rant about the state of cycle lanes. But I won't.