Goose on the Loose is a warm, comfortable, laid-back café-style restaurant on Kevin Street, just next to the junction with Wexford Street.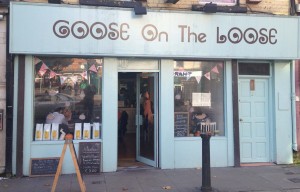 It's small, seating about 18 people. The decor is … I don't know … thoughtful. Some candles, ornaments, potted plants, a huge armchair.
A CD player sits in a brick alcove, playing Craig David and Madonna (not together, thankfully).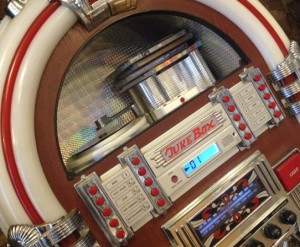 It's the sort of place you could spend some time in, with a paper, coffee and a pastry.
It wasn't my first choice but I'm glad I ended up there. I had intended to try out Karma Stone on the corner but they've changed their Fiver Friday deal from all day to 3pm-7pm. Still good value, I'm sure, but I didn't have time to hang around until 3 to find out.
Goose on the Loose (their Facebook page, needing updating, is here) has a varied menu. It opens near enough to 8am apparently and serves breakfasts. It also serves pastries, soups, salads, crepes, a selection of Hot Pots and a few other things besides, closing at 5pm. Click on this to get an idea of today's offerings …
The non-soup choice for under a fiver is limited to a couple of omelettes, so that's what I had: an own choice omelette, with two fillings from a choice of about eight. I chose ham and feta.
The kitchen area is tiny but evidently big enough to crack a couple of free-range eggs and whisk up an omelette, which arrived soon enough, with two slices of fresh toast and a little bowl of (mercifully) soft butter.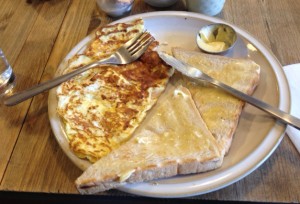 Actually, this was a perfect lunch for today and I'm kind of glad I wasn't faced with wading through lots of meat and spuds. It was light, soft and smooth with the tanginess of the feta offsetting the slight cured flavour of the ham. The toast was unexpected, but a good accompaniment. Service was helpful, pleasant and efficient. And it only knocked me back €4.60.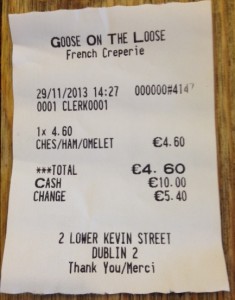 I'd like to try GOTL for brunch some weekend (it opens at 10 on Saturday and 11 on Sunday) and I'm kind of sorry I don't live as close to it as I used to. This was a good eatforafiver experience.
On my way down Wexford Street, I passed a place I forgot to include in my recent post about Wexford Street fiver eateries. Here it is …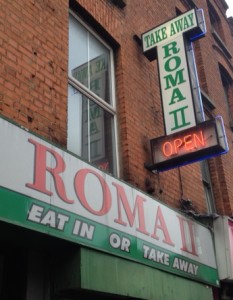 If you've a hankering for a battered sausage, chips and a can and you're a bit short, you could try it out. I was last in it 25 years ago.
A few doors away, a place called Evergreen, in a very limited space, carries a brilliant range of food. If you're keen on mushrooms, this will be your new home. I counted 10 different types of mushrooms, including these trippy-looking ones …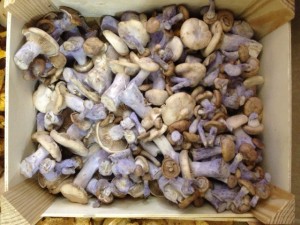 Artichokes, pomegranates, alfalfa shoots, sumac … Evergreen seems to stock it all. Yelp it here. Did I just say that?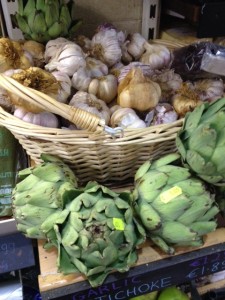 I'm losing it. That'll do for today, so.