(Note: The Mingle Marcade moved to Camden Street since this was written. I had a little wander around it just after it opened but it's too soon to say what their food offerings will be. Il Siciliano, mentioned below, is staying in Thomas Street where the  market will open again under new owners.)
A few weeks ago, I was thinking that maybe I was near the end of the fiver offerings in Dublin. Then along came Garwin Liu with some Talbot Street and Parnell Street suggestions, Dublin by Mouth with a Dark Horse in Blackrock, and a Fringe-related wander through Merchant's Arch, leading to Monday's South American adventure.
Today it was my intention to go back to Merchant's Arch to try a salad box from Staple Foods but a chance glance at some old notes on my phone diverted my attention. Eighteen months ago, I tapped in 'Ferocious Mingle Market' and nothing else. I had a vague idea it was near Vicar Street but that was about it.
Googling it today led me to its Facebook page, its location and a thought that maybe it might be worth a visit to see if there might be foodforafiver therein.
There was. Lots.
The Ferocious Mingle Marcade (sic) (FMM) is at 72 Thomas Street, close to the junction with Francis Street, beside a bus stop.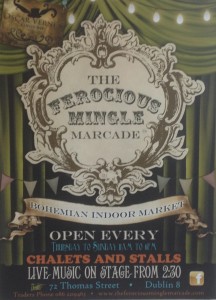 You might miss it if you weren't paying attention and it only opens from Thursday to Sunday.
I like markets. And I liked this one. It was quiet but I suspect it gets busier at the weekend. It's got a Gothic sort of thing going on and has stalls selling jewellery, vintage clothes, incense, objets d'art, hats, art and more besides.
It's dark(ish) and the music is mostly 70s rock/pop. Oh, I nearly forgot. It's got a seating area with a cinema screen showing old black and white movies.
Food-wise, there's Il Siciliano (selling a variety of traditional Sicilian delicacies, including Cannoli [on Sundays]), a vegetarian stall called Happy Food by the YogaHub (which may or may not do Broccoli Burgers) and the Mingleopolis. The first two will feature in future posts.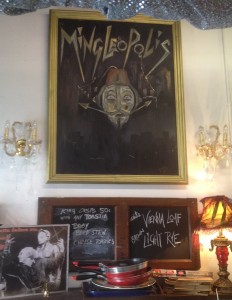 This was my choice today.
The menu …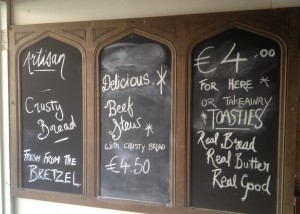 The style …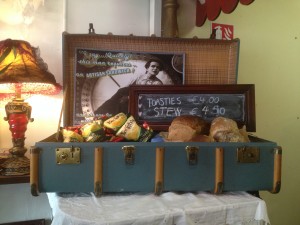 The stew …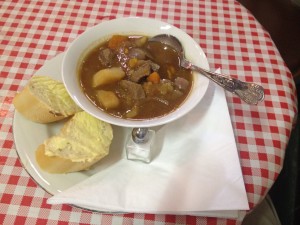 … served by Jade, a helpful and charming woman who, while I was eating, was making the stall spotless and who, after I had eaten, explained that the Mingleopolis was owned by the people who own the FMM itself.
The food, as you see, was simply but elegantly presented. The bread was freshly cut and that's real butter on it. The tiny salt cellar was a nice touch.
The stew was lovely. Generous chunks of beef, potato, carrots, onion and swede in a rich peppery tasting sauce. It was a good helping, perfect for lunchtime. Actually, perfect for anytime. And it was nice and hot (steamy hot, that is), so I could take my time eating it.
Super value for €4.50. Really super value. I recommend it. Wholeheartedly.
I'll re-visit the FMM because I do want to try the other two places I mentioned above. I may need to pay an extra visit on a Sunday to try the Cannoli, as an added extra.
(Sorry Alberto. I couldn't resist.)