Good grief. People all over the city are buying overpriced sandwiches or saturated fat in a bun when they could be sampling the delights of South India – for under a fiver.
Today, I ateforafiver in Ambala which is at the top of Camden Street, opposite the Camden Court Hotel and quite near the Bleeding Horse pub.
I always thought that Ambala was just an Indian sweet shop but, walking by it the other day, I spotted a sign in the window offering Masala Dosa for €4.95. So, today, I thought I'd give it a try.
Outside, one of the staff members was trying to tempt customers in with some Indian snacks but without much luck. For most of my time there (I got there at about 1.05pm) I was the only sit-down customer.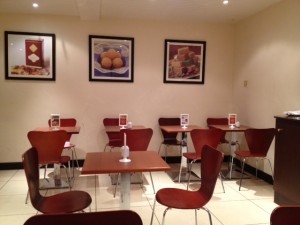 One other person arrived before I left. They did tell me, however, that it gets busy at weekends. I certainly hope so.
I ordered my Masala Dosa before I sat down (in a spotlessly clean dining area). While waiting I had a look at the menu. Masala Dosa is not the only sub-fiver item. Various snacks, starters, specials and other dosas come in under the magic limit.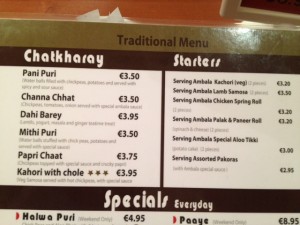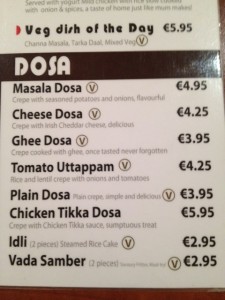 I had a little look at the sweets on offer while I waited and also watched my dosa taking shape. There's a huge selection of sweets there: laddoos, halwas, gulab jamuns, jalebis and so on. If you haven't tasted these before, do it soon. Very tasty and more-ish.
My Masala Dosa arrived …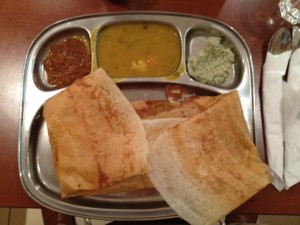 The dosa was huge and generously stuffed with mildly spiced potato. The dosa itself was crispy and obviously (given that I'd just seen it being made) fresh. It came on a metal plate, as you can see, with (from the right) coconut, a sambar, and a tomato based spicy sauce.
I ate with gusto. It was filling and very tasty. For people with an aversion to spicy heat this would be an ideal introduction to subtly spiced Indian food. It's also pretty authentic (see my post on Madina, for details), and not the over-sauced, over-chillied oil fest that passes for much Indian food in Dublin. And not a Peshwari Naan in sight!
Yum …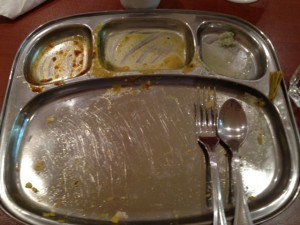 And, of course …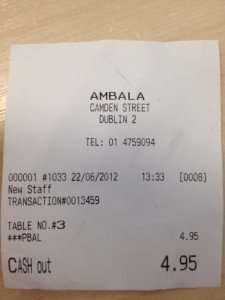 Camden Street isn't out of the way. This is a good place to eat. Go.