You know what the weather was like today? Lashing. Windy. Cold. As I approached K Chido, though, the rain stopped. The sky cleared. The sun came out. A miracle? Luck? Fate? An omen? Nah, don't be silly. It just happened.
K Chido is a van. In an archway. I was afraid I wouldn't find it. But I did. It's on Chancery Street, very close to the Four Courts and near this …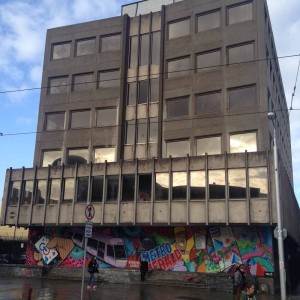 … which the older ones among you will recognise as the old motor tax office. More pleasantly, it's near these …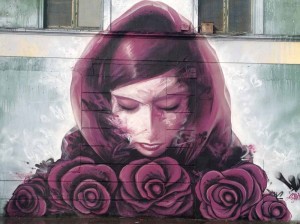 … which brighten up the streetscape a little.
Just in case you missed it above, K Chido is a VAN and you'll find it in the archway leading to Fegan's, a wholesale specialist food merchant.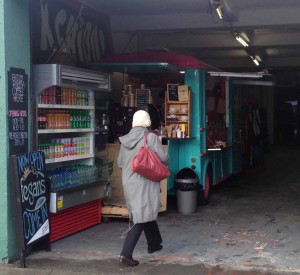 It's colourful …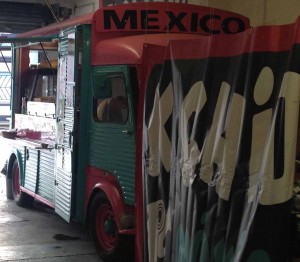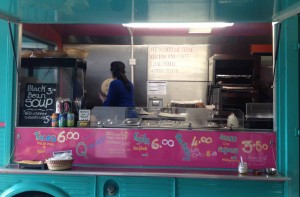 … as is the seating opposite …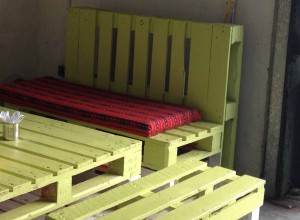 Its menu is simple, and Mexican … (click makes big)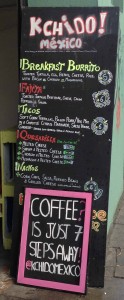 The printed menu (again, click to embiggen much) gives more of an idea about what's on offer for a fiver …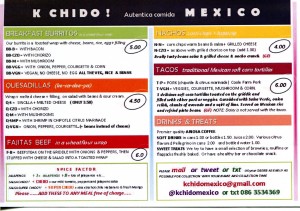 … and there's this which, according to their Twitter feed page, is new …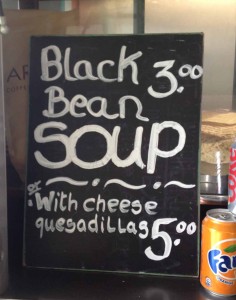 There's a lot of love on Yelp for K Chido's breakfast burrito, so that's what I chose. There are some choices you can make in relation to fillings but I make enough choices at work, so I just went for the standard one with chorizo and jalapenos, following the suggestions of the helpful server.
What I got (in no time at all) was big, warm, soft and delicious. It had all the usual burrito stuff. You know, the rice, the beans, the sauce.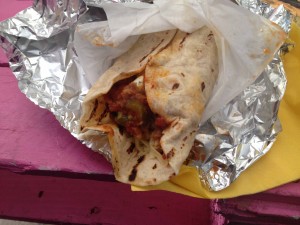 It had lots of chorizo. It had jalapenos. And it had a fried egg. A FRIED EGG.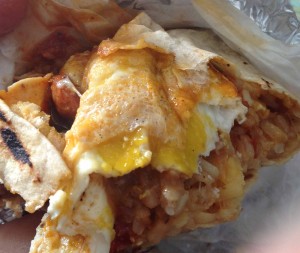 This wasn't just a breakfast burrito. It was a birthday breakfast burrito with some Christmas added for good measure. I munched and I slurped and I licked the burrito juice that dripped onto my fingers. Oh this was good. Very good. And when I'd finished, I just sat for a while and savoured the afterburritosensations. Mmmmm.
Now, I freely admit to going a little over the top here in my description. But the fact is, I love this type of food. Today, this was my ideal lunch. I loved it's sloppy, soft warmth and its spiciness. I loved the colours on the van and the furniture. I loved the colourful bunting and the Mexican pictures on the walls. The servers were helpful, pleasant and informative, and the whole thing came together as a pleasant eating experience which I aim to repeat.
Opposite K Chido is a tiny, well-kept park, called Chancery Park, with this intriguing 1930s style building …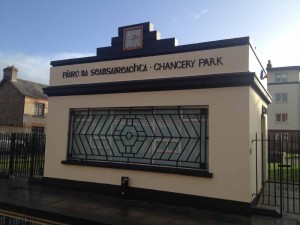 It's got a fountain …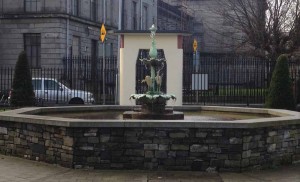 … and, according to the sign,
it should have been open. But …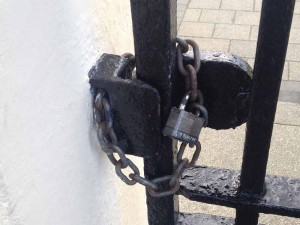 … it wasn't.