The Stables Market …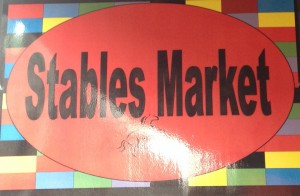 …is where the Ferocious Mingle Marcade was: 72 Thomas Street, close to the junction with Francis Street. The Mingle one has moved to Camden Street.
Some stall holders stayed, however, including Alberto (who I referred to briefly at the end of this post), who runs Il Siciliano.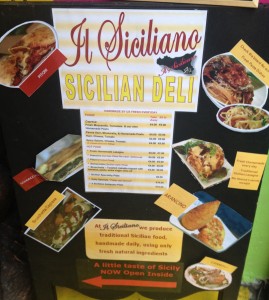 Alberto fed me some cannoli some months back and I promised myself I'd go back to sample some more of his Sicilian food. Since then, the Marcade closed and the Stables Market opened in its place in late November. It's still finding its feet by the looks of it, but Il Siciliano is open and is doing what it does.
I pondered over the menu for a while (as ever, click to embiggen) …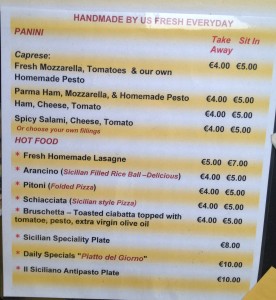 … As you see there's a bit of a choice for your fiver. In the end, I settled on the Pitoni (also known as Pidone or Pituni). Although it's described on the menu as a folded pizza, it's more like a pasty in shape and size. Alberto spent a bit of time asking me what I wanted in it, and suggested two items: a Sicilian Pecorino cheese and a Sicilian Salami called Capocollo.
He then invited me to sit down while he prepared the Pitoni. Alberto is pretty passionate about his food and, I suspect, he'd go bananas if you described it as Italian. I didn't dare. While I was waiting, he let me sample some the Pecorino. It's a hard sheep cheese, quite salty, and the version he gave me had stuffed olives through it, which gave it an olive-y and slightly spicy kick. Nice.
My Pitoni arrived …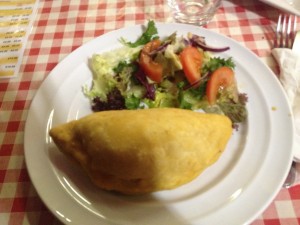 … with a freshly made garnish. I cut into it …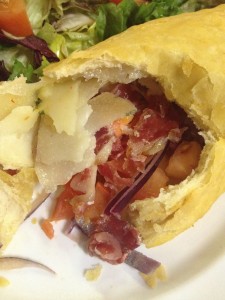 … and laid bare its innards. You can see (especially if you enlarge the pic) the slices of cheese, the salami, chopped tomatoes and red onion which made up the filling. All fresh, flavoursome with some herby seasoning. The casing was more pastry than bread: warm and unstodgy. The meal was tasty and filling.
The other items on the menu forafiver were Arancini, a Sicilian filled rice ball and Sciacciata, a pie filled with spinach and cheese, by the looks of it.
I'm not an expert on Sicilian food so I have no basis on which to evaluate whether what Alberto serves is a good example. No matter. What I like about Il Siciliano and Alberto is the enthusiasm with which he talks about, prepares and serves the food, and the pride he has in his country's specialities. That and the fact that the food is tasty, filling and (in my opinion) good value. Il Siciliano is open from Thursday to Sunday from 11 or 12 until about 7 or 8 (sorry, a bit vague about this). The market itself hasn't quite hit its stride yet but it has the makings of an interesting place to visit. Give it a try and see what you think.
Before I go, let me tell you about yesterday. I was in Blackrock having lunch with the spouse: a reasonable chowder in Conway's. Anyway, before we met, I went searching for the Fish Shop, a place I had read about on Twitter and in various other places. It's not that easy to find: it's at the far end of the Blackrock Market if you enter from the front. However, if you go up George's Avenue from the village end, you'll see a sign pointing to a lane to the left which will bring you to it.
The Fish Shop does fish and chips. But it does them well. It's run by Peter and Jumoke and yesterday they served me the freshest fish (slip sole) in the lightest batter, cooked lovingly and served with the most gorgeous homemade tartare sauce I have ever had. A fiver for the fish and a euro for the sauce.
It's open from Tuesday to Sunday, 12 – 9. I'll leave you with some reviews:
from Canal Cook
from Marie Claire Digby in the Irish Times
Tomorrow, I eat pie in Galway.