The Epicurean Food Hall between Abbey Street and Liffey Street has been going since 1999 and is now looking a little shabby. I've been there a few times over the years, usually to grab a bagel or a filled roll. I actually don't mind shabby, as long as it's reasonably clean. And it is. Reasonably.
Just having a look at some reviews on the internet reminded me that the variety of food on offer in the Hall has reduced over the years. I hesitate to say that the place is in terminal decline but it's definitely not the 'hidden gem' that it used to be referred to as a few years ago. The Hall's own website domain has expired. As .com domains cost about €6.50 a year, that's not a good sign and perhaps shows that whoever owns the Hall has either lost interest or lost their shirt.
Yesterday at lunchtime, the young lad and I paid a visit. We were heading for a place in the Hall called Taco Taco, but we had a little look at what else was on offer. Not much for a fiver, I'm afraid. On the Liffey Street side, Burdocks had fish goujons, chips and a drink for a fiver. And there was a small portion of paella available for a little less, at the Abbey Street entrance.
Most places seemed to have 'all you can eat' offers for about €9.50, with 'small' plates of food for €7. You could have your choice of Turkish/Mediterranean, Chinese/Thai, Italian and Greek. The small plates were very small but if you're looking for a feed for a tenner, the €9.50 option in the Greek place looked like good value.
Other stalls offered Brazilian food, hand-made burgers and baked potatoes. The bagel place is gone.
Taco Taco has a pretty good selection of Mexican items, as you'll see from the menu, with everything under €8:
The options for a fiver are limited to tacos, vegetarian tostadas and vegetarian mollete. We went for the tacos, the young lad opting for chorizo and I for chicken.
The tacos were … meh. I mean, they were OK, but a lot blander than I expected. The taco shells were crispy, which was good. The fillings were fine. The young lad was happy with his chorizo. My chicken tasted less of chicken than the oil it had been fried in. The tacos were covered in reasonable sour cream, rather insipid guacamole and, inexplicably (to me), a sprinkling of packet parmesan cheese. The garnish comprised shredded iceberg lettuce and a slice of tomato. No sign of the tomatillo Mexican salsa mentioned on the menu.
(I have to day that they looked more appetising in reality than they do in these rather dull photos taken with my phone.)
Realistically, for €4.65 each these were fine and quite filling. I was just a little disappointed with the blandness. I hadn't expected my head to be blown off but I had expected some heat. Then again, I'm no expert on Mexican food. Maybe we caught them on a bad day.
The bill: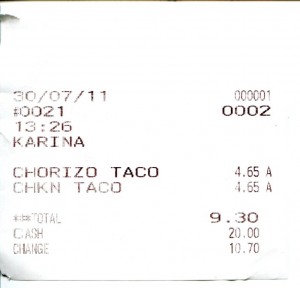 Yesterday, the Epicurean Food Hall was busy, but not packed and we had no difficulty finding a vacant table. There were quite a few elderly American tourists and interestingly, not many children. I may be mistaken but I suppose many parents, in town on a Saturday, take the easy option of McDonalds or Burger King for lunch. Understandable, but a pity.