I was going to tell you about the film I was in but you'll have to wait.
It's been a while since I've posted but such are the rhythms of the work I do. March to mid-June is busy. Well … manic. And this year, because Easter was so late, it was super-manic.
Why we all have to suffer because some crowd in 325CE decided that the date of Easter should be determined by the equinox and the full moon beats me. It's inconvenient and, in the 21st Century, just a bit bizarre.
Today, I was going to try Toni's Diner on Charlotte Way at the top of Camden Street but, to be honest, I'm feeling fat at the moment and the last thing I wanted was a feed of chips. And then I thought I'd have a look in a new place that seems to have opened opposite the Aussie BBQ at that triangle at Kelly's Corner. It's called Grubhub but when I went in, the bloke behind the counter was more interested in his phone than a potential (actually, his only) customer and the filled rolls were a whopping €7.50. It seems that you just need to put 'Pulled Pork' on the menu to give yourself a licence to charge a fortune for a glorified sandwich.
Luckily (although it was more to do with good marketing than luck) a very pleasant person outside a relatively new place at the corner of Camden Street and Grantham Street, Martino's, had waved a wooden board in front of me a few minutes before, on which were little bits of pizza impaled on cocktail sticks. The pizza was tasty and her patter was enticing. So, I wandered back to Martino's to see what was on offer for my fiver.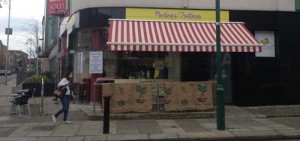 Martino's is where a sushi place was until reasonably recently. It's tiny, with room for a counter, a coffee machine, a pizza oven and two very small tables, but they've made the best of the available space outside to put another four or five tables outside, some of which are under an awning.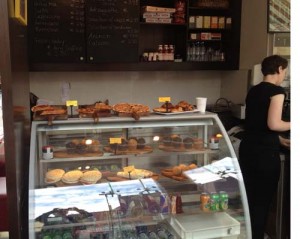 Before I go on, let me just say that I have a deep affection for Camden Street. True, it's a little run down but on what other street can you get your thesis bound, book a holiday, sort out your taxes, dance until 2am, get a t-shirt embroidered, play on a slot machine, buy a bike, get your computer fixed, hire a bike, purchase street art supplies, get a loan, visit a gallery, order your wedding stationery, have a bohemian mingle, eat well and eat poorly, and get muntered in any number of interesting pubs?
Back to Martino's. You won't get stuffed for your fiver here, but you'll have a pleasant (very) light snack and you can people-watch to your heart's content. They do muffins, pastries, coffee and, from well before lunchtime (they open at 8am, btw) pizza, calzone and arancini. They do paninis and so on too but at this stage I was hungry so I wasn't in the mood to write out a list. Here's the menu board: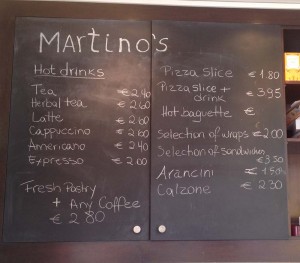 I ordered a slice of anchovy pizza and an Americano, sat down outside and waited.
Service was quick (and friendly). Not a massive slice of pizza. In fact, a very small slice of pizza …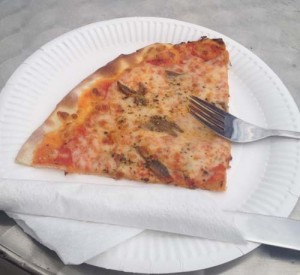 … but it tasted pretty good. Thin base, decent cheese, not too much tomato sauce, and a generous helping of anchovies. The pizza is part of a meal deal: a slice of pizza and a drink for €3.95 (although a post on their Facebook page from January advertises it at €3.50 – that's a 12% increase in a few months). In hindsight, I might have been better ordering 3 Arancinis for €4.50 or a couple of Calzones (although they were sold out of these by the time I got there).
Martino's have just launched another deal recently: all you can eat pizza with a glass of wine for €15 and they plan soon to open until 3am, presumably to cater for the drunken sweaty crowds emerging from the Palace down the road. Good luck with that.
Not much more to say except that the coffee was pretty good. Martino's seems to be part of an expanding enterprise. They have a Trattoria in Ranelagh. Unfortunately their website is impenetrably crap so I couldn't work out whether they are anywhere else and their Facebook page doesn't really say.
Summing up: pleasant helpful servers, tasty pizza, small portions, good coffee. Don't expect to be stuffed but do expect what you eat to be tasty.