*Guest Post by Edward Meredith*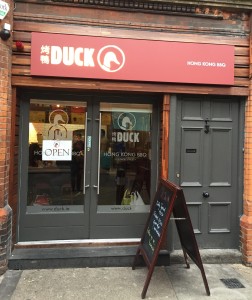 I was pessimistic when informed that I would be eating in a place named 'Duck', but my mood quickly changed as I walked in the front door. Although small, this small shop was filled with atmosphere.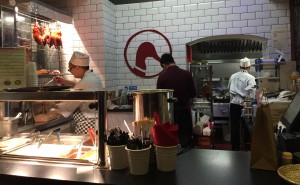 The line stretched as far as the door and was even longer when we left. Bright colours and interesting pictures on the wall enhanced the experience and the man who took your order had a great smile on his face.
The menu was quite extensive (click -> big) …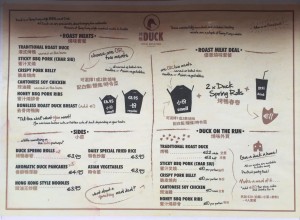 … but we only had eyes for the meals for €5.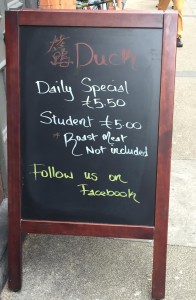 This daily special menu had two options for each day and it changes daily.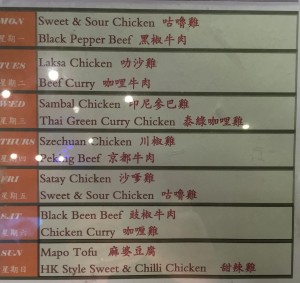 As we went on a Wednesday, the two options to pick from were sambal chicken and thai green curry chicken. We both went for the sambal chicken, but I had it with noodles and my dad had it with boiled rice.
The meal was enjoyable and for only a fiver, we got enough food to fill us up …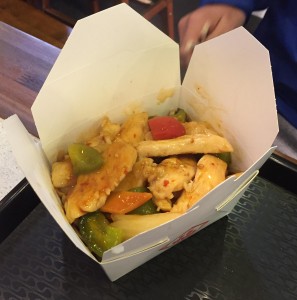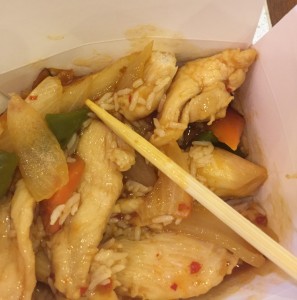 The chicken was succulent and the whole box had a great spicy flavour. The vegetables tasted nice but I had hoped they would be crunchier to add a bit of texture. I made the mistake of adding some sauce that was found on the table which made the meal unbearably spicy, but otherwise, very tasty. If you happen to go and order this meal, I strongly recommend getting it with rice. I found that the noodles were quite chewy and rather tasteless.
Additional Notes: Duck is on Fade Street, around the corner from the Asia Market (on Drury Street) with which it has a connection. Duck has a website and a Facebook page and there are bundles of reviews online, mostly focusing on the duck items. Students get the special for a fiver. Non-students have to fork out another 50c. It's open from 12 noon, 7 days a week, closing at 8pm most evenings, and 10pm on Fridays and Saturdays. You can eat inside or take your food away.