It's not often that one comes across a pregnant woman in a wire cage, on a vacant site. But there she was …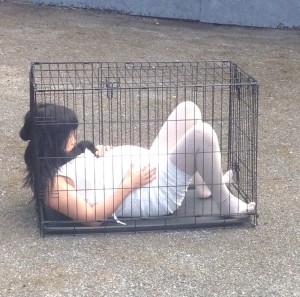 … at the corner of Harcourt Road and South Richmond Street. She was there as part of the Dublin Live Art Festival. She seemed a lot more squished in when I saw her first. I think this is her relaxing.
O'Falafel, where I went on Friday for lunch is on South Richmond Street; the bit of it that forms two sides of a triangle at Kelly's Corner. If you need a landmark, it's near the Bernard Shaw pub (see below).
O'Falafel is new. And orange. Bright. Eye-catching.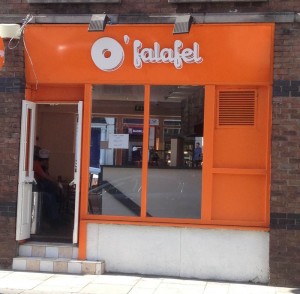 Interestingly, I had two emails last week from people who, in one case (Siobhan), lives in and in the other case (Ian) works in this area who suggested that I give O'Falafel a go. I was more than happy to.
O'Falafel opens onto both parts of South Richmond Street. Here's the inside out: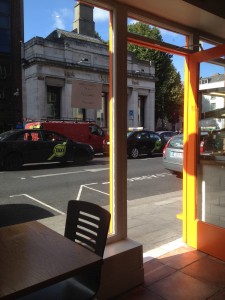 The last time I was in this space was when it was Grub Hub, and the bloke 'serving' was more interested in his mobile phone than in the only potential paying customer in the place.
O'Falafel was notably different and service was both swift and attentive. My questions were answered clearly and my order taken without fuss.
O'Falafel is open almost all the time. I've been trying to find them online to check but they don't seem to be there. As far as I can remember, the pleasant young woman behind the counter said that they open at 7am on weekdays and close at something like 2am.
Inside, it's small but clean. There are five or six small tables but my guess is that it's really more of a take-away place than a sit-down place.
The menu is very tempting. Lebanese inspired, there was lots on it that I want to eat and I'll be back to work my way through other bits of the menu in due course. Here it is. (Click to big up.)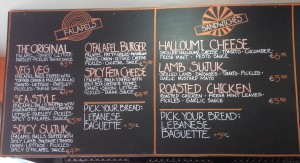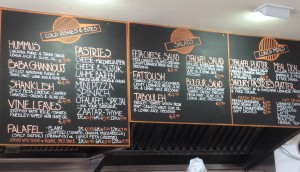 As you see, there's lots of choice for a fiver or thereabouts, and lots of tempting treats, including things like Halloumi (a packet of which resides in my fridge and will remain there until I work out what to do with it) and Fattoush (which I made once and is gorgeous).
I went for the Spicy Sujuk, mainly because I was intrigued by the idea of a filled falafel, something I haven't encountered before.
My Spicy Sujuk came soon enough. The falafels, tomato, lettuce and pickles were wrapped in a flat bread which had then been heated in a panini grill. While I'm quite happy for my wrap not to be grilled, the grilling process makes it a little crispy which is nice, and it also makes the thing less susceptible to splitting open and depositing its contents on your lap.
Taste-wise it was good. A little over-dominated by the pickles and, although the title and description emphasise the work 'spicy', it wasn't much. Let's not be too critical here, however. The wrap was very substantial and tasty and, if all the food on the menu is a) made with such care and b) as filling and tasty as this wrap then O'Falafel is exceedingly good value for money.
Pretty well stuffed, I paid and left, feeling that this was €4.50 well spent. Give it a try.
Wandering down Harcourt Road, I noticed that Soup Stop, which I wrote about some time ago, hasn't reopened since it closed its doors a month or so ago. That's a pity but around this area there are now quite a few nice cheap places to eat and drink coffee in, and South Richmond Street itself which has looked a little messy in the past is now getting interesting.
I mentioned the Bernard Shaw above. Here it is …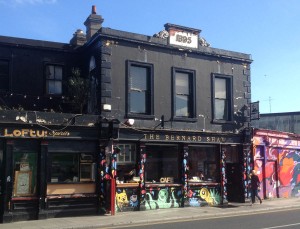 I've always liked the look of this place, and the street art around it but I've felt this weird reluctance to go into it for a drink. I somehow always feel that I'm too old and dressed in the wrong clothes.
It has a sibling however, which is gorgeous. It's the MVP on Clanbrassil Street, beside where the Man of Achill used to be, on the right as you go up the hill to cross over the canal bridge heading from town towards Harold's Cross. I spent a very pleasant Friday night there a few weeks ago in the company of a couple of old pals. It's got two floors, is basic but atmospheric, has lovely staff and mixes real cocktails. Well worth a go.