My Dad used to cut my hair until I was about 16 or so. I'm not certain that the result was all that much help in attracting potential girlfriends.* The vague relevance of this Dad haircutting revelation is that I walked past Snips in Middle Abbey Street (the site of my first non-pudding bowl haircut in 1976) on my way to my latest eatforafiver venue.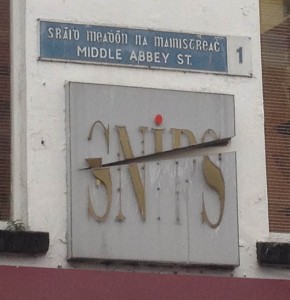 It's looking a bit battered but it's still in business.
My eatforafiver venue of choice is of a much more recent vintage.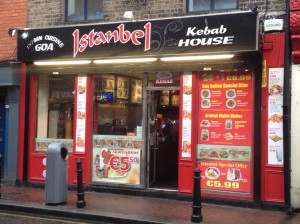 Google didn't believe the spelling, asking politely if I meant Istanbul. But there it is, in red and white, at 10 Lower Liffey Street, just a couple of doors down from the Food Emporium and the Gin Palace.
To me, Lower Liffey Street is like a corridor that you have to go through to get from the Ha'penny Bridge to Henry Street. The shops have no sense of permanence, apart from the enthusiastically evangelical Games Workshop with its bespectacled, black t-shirted and acne'd patrons endlessly strategising on behalf of their plastic orc armies.
I don't know how long Istanbel has been there but a Google search showed that it was established as a company just over a year ago.
Its food offerings are plastered brightly all over the outside of the building, with more on the backlit panels behind the serving area. It caters for a broad range of tastes, offering kebabs, pizza, burgers, chips, a range of Indian and Thai curries, and Mediterranean/Turkish staples such as falafels, Lahmacun, Kofte and Baklava.
I was greeted warmly by the woman behind the counter and I ordered the falafel plate and handed over my fiver. I took a seat beside a massive wall mirror that makes the place look twice as big as it is, and had a look around. There were only two other patrons. Well, two and a half really: a couple with a baby.
Inside, it's clean and bright but a little spartan.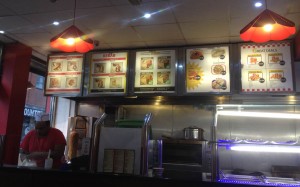 Not a venue for a romantic evening but not a bad place for a quick bite and a chat, or to fill up in if you happen to be passing. At a guess (lazily, I didn't count), it seats about 24 but I'd say a lot of its trade is take-away.
My falafel plate arrived …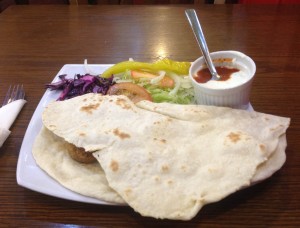 … with its salad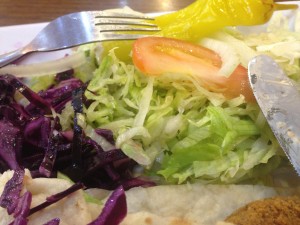 pickled chilli (I love those)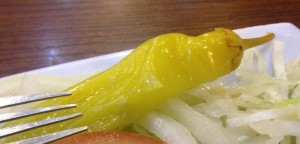 and, under the bread, my falafels.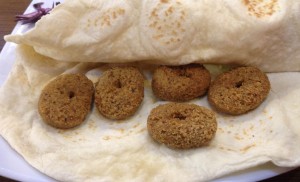 There were also two sauces in one ramekin: a garlic mayonnaise and a VERY mild chilli sauce.
As you'll see, my falafels were the doughnut type, with the hole in the middle. I understand that the purpose of this design is to allow more of the outside of the falafel to come in contact with the hot oil thereby making it crunchier. To be honest, I prefer the traditional type, made with the miniature ice cream scoop but that's just me. I'm not that fussed about crunch. They tasted, well, falafel-y and not at all greasy.
As for the rest, the salad was fresh and crisp and the pickled chilli was as you might expect. The garlic mayonnaise I kept tasting for the rest of the day. The flatbread, however, was excellent.
This was a pleasant lunchtime snack, in a clean if rather featureless venue, served efficiently and pleasantly. If I was looking for a good value and reasonably healthy snack and I happened to be in the area, I'd go back to Istanbel rather than some of the places in the food emporium a few doors up the street.
I was there last Wednesday. Later in the evening, I was back in the area being dragged (willingly, to be honest) by Jacko, an old college pal, to The Academy to see Blackberry Smoke do their stuff. They were hairy and authentic, and it was a most enjoyable evening. What intrigued me were the fans. Blackberry Smoke is hardly a household name but the majority of the crowd (mostly men in dark t-shirts, aged between 45 and 60) were singing along to every song. They opened with this:
__________________________
*that is if you don't count Maeve, with whom I almost shared a kiss in a nettled laneway when we were 9. It certainly doesn't include Susan, however, who dragged me on to a bed when I was 10 and gave me an unrequested and unwanted wet kiss, the memory of which, to be honest, still has me a bit traumatised.