South Richmond Street will be forever tattooed on my memory as the place where I had my first motorbike crash. I wasn't hurt but the bike (a humble Yamaha 50) was wrecked. I wasn't much of a motorbike rider anyway.
That was 1979. I'm a bit older now but South Richmond Street doesn't look all that different. The Rotana Café is at the canal end, beside Christy Bird's antique shop. I had thought of having lunch there yesterday, but it doesn't open till 4.30pm on Mondays.
Today at lunchtime, I was accompanied by son no. 1, a strapping lad who works out his aggression on the rugby pitch. He takes a lot of feeding so I thought he'd be a good measure of the fill-value of what we might order.
Rotana, a Lebanese restaurant, is attractive and kind of homely on the inside. There were three tables occupied when we got there, by local office workers at a guess. Middle-Eastern music was playing and a very smiley waiter handed us menus.
There is a great selection of what, on the menu, are termed 'Light Bites', priced at around €4.50 or less. They include falafel, hommous, moutabel, baba ganouj, stuffed vine leaves and so on. There are also some Lebanese salads for about the same price. And they have a set lunch menu for €10.90 (starter and a main course). You'll find details on their website (www.rotanacafe.ie)
Having been tempted initially by the thought of a salad, the word 'lamb' caught my eye and I opted for a 'Light Bite' called Sambousek Lamb, at €4.50.
There was a Falafel Sandwich on the menu for €5.40, but Tom rather cleverly spotted that one could order 4 falafels with a side order of pitta bread for €4.65, and make one's own falafel sandwich. And so that's what he did. We also ordered tap water, which came in a nice stoppered bottle.
My Sambousek Lamb, as you'll see, comprised 5 mini filo rolls stuffed with delicately spiced minced lamb. they came with a garnish and a small ramekin with commercially produced sweet chilli sauce. The rolls were tasty but the sauce was too sweet and overpowered the lamb. Something light and minty might have been better.
Tom won out here. His falafel were substantial and came with a garnish and a thin tahini sauce. His pitta bread was plentiful and thin and he was able to combine the dishes to make some decent looking (and decent tasting) sandwiches. Tom, as I've said, takes a lot of feeding and he professed himself to be quite satisfied with the amount of food he received.
And the bill? Light on the wallet at €9.15 for the two of us. Pretty good, although I have to say that I was a bit hungry later in the afternoon.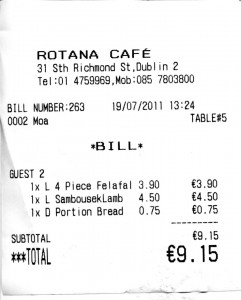 Rotana is somewhere I'd like to return to at a later date perhaps free of the eatforafiver constraints. The regular menu selection is mouth-watering and they also offer Shisha, which I'd like to try.
There are a few other restaurants/ eateries/ take-aways on South Richmond Street, including the Aprile, the first chipper I ever went to. Two places offer things like chicken shawarma and chips, or burger and chips, or other things and chips for a fiver but they don't look that inviting or, it has to be said, that clean, which is a bit offputting.
Down towards Kelly's Corner, The Bernard Shaw pub offers a salad of the day for a fiver. This is a pub I want to visit soon and not just for the salad. I follow it on Twitter and it has an intriguing programme of music, theatre and art, and a rather enlightened view of the use of street art for promotion and politics.
Right where the Rotana is now, there used to be another antique shop, specialising in old fireplaces. Soon after we had moved to our current house, I went in to have a browse. The prices seemed a little steep and I asked the man running the shop what I might get for £150. 'F*ckin' abuse', was his considered response.