Ah, Venezuela, or the Bolivarian Republic of Venezuela to give it its proper name, home to the Angel Falls (the highest waterfall in the world), the late President Hugo Chavez and almost 29 million people. The place is huge.
El Arepazo at Merchant's Arch, on the other hand, is tiny. So tiny, in fact, that most of my photos, which are pretty poor at the best of times, today are unusable. So, instead, I'm going to direct you to their Facebook page: here. (Note: this page doesn't seem to exist anymore but El Arepazo is still very much in business.)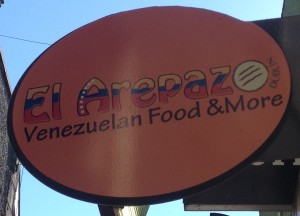 El Arepazo serves Venezuelan food: principally Arepas and Empanadas. EVERYTHING is a fiver or less. Did you get that? EVERYTHING.
Here's the menu … (click makes BIG, which means that I don't have to explain all the fillings)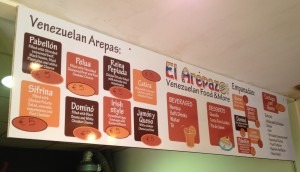 The big lad is back from University in the north of England where, he learned today, he won at physiotherapy. He can now fix people with his magic hands and a moist sponge. To celebrate, I felt he deserved a slap up meal and that's how we ended up blowing a tenner in El Arepazo.
The people behind the counter are chatty and friendly, and happy to talk about Venezuela and its food. The food is made to order (maybe not always, when it's busy).
We both went for the Arepas Pabellón. The Arepa itself is made from a batter of cornflour and water. This is poured on a griddle to cook and ends up like a substantial doughy (but not bready) pancake. The Pabellón filling comprises shredded beef, black beans (not the Chinese ones), fried slices of plantain and white cheddar. The Arepa itself forms a pocket into which the filling is placed. The whole lot is put in a small paper bag.
I said the place is small. It is. There are five chairs but the Arepa is a take-away sort of food, so eating in is possibly unusual. By the way, El Arepazo is open from 11am to 9pm every day except Friday and Saturday nights when it stays open until 4am for some serious post session soakage.
Here's our eating experience …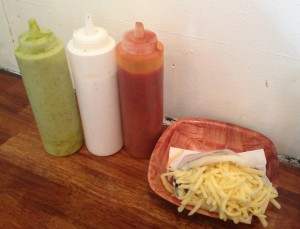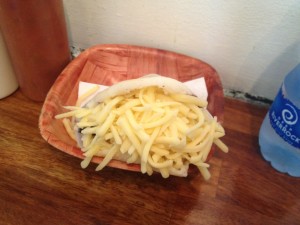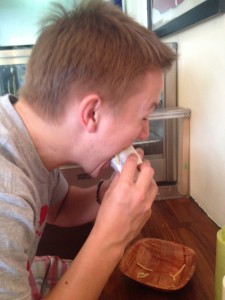 That last one is the older lad tucking in. Quite neatly. I made a mess with mine and had to finish it off with a fork and wipe the residue off my jacket with a tissue.
The sauces you see are a spicy tomato one, a creamy garlic one and a guacamole one.
Here's what the Arepa looks like half eaten …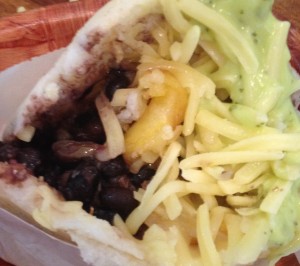 For something quite small, it's amazingly filling and very tasty. We both felt pretty full after it.
When we arrived the place was full of young people at least some of whom I think may have been from South America. There was lots of chat and conviviality and the place has a nice friendly vibe about it.
I'm glad we went. The food is great value and I'd recommend it, if only to try Venezuelan food.
We saw this rather attractive street art on the way back.