Good grief. Look at all this food …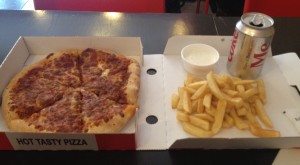 … for a fiver!
I have Garwin Liu to thank for this. He sent me a message through Facebook a few weeks ago, pointing me in the direction of that bit of Talbot Street near Connolly Station. There's Star Pizza, the place responsible for filling my boots today and a few other places which I have on my list for later.
I'd forgotten Talbot Street was so long. In the distant past I worked for a few Christmases in Sheriff Street sorting office and I remember a damp-warm place with a lot of formica at that end of Talbot Street as the location of my first experience of a deep-fried egg. My post office service left me with a significant appreciation of the importance of wrapping parcels carefully with what, to some, might seem like an excess of Sellotape, and an olfactory memory of two-week old posted turkey.
It's changed down there. A lot. There's a hotel and small supermarkets. There's The Lab, part of Dublin City Council's quite sophisticated arts provision. There's this …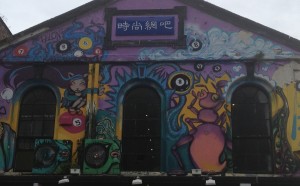 And there's Star Pizza …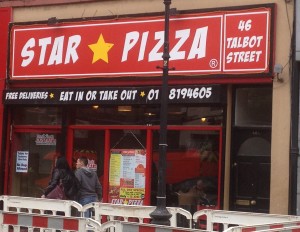 … with its all day FIVER offer …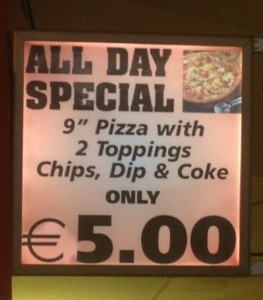 Where would you see the likes? (As it happens, across the road closer to the bridge – almost exactly the same offer.)
Star Pizza is quite spacious. I got there at about 1.45 and there must have been about 20 or so people in it, most, if not all, munching through their All Day Specials. There was a good buzz and people didn't seem in a hurry to leave. It's pretty clean and the guy behind the counter was patient (with a couple who were a little (!) indecisive about their choice of toppings).
I ordered. Pepperoni and anchovies. Diet Coke. Here's what else you can have:
Soonish, I was presented with my box of pizza, bag of chips, can and my choice of dip (garlic mayo).
I'm not going to critique the food. It was pizza and chips. You'll have seen a picture of it above. It was filling and tasty and there was a lot of it. And, for a fiver, I think it was amazing value.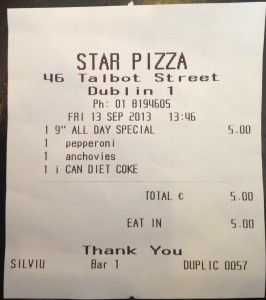 So, to answer your unasked question, the Dublin Fringe Festival. I love it. I love that tickets are about a third of the price of mainstream theatre tickets. I love the variety of spaces you get to go to. I love the informality of it (even though I was brought up in a drama-related home, I still feel less than completely comfortable going to the Gate or the Abbey). I love the creativity and innovation of Fringe offerings. I love the risks taken by small theatre companies.
I've seen four shows in the last week. The one that had its greatest impact so far was Postscript which I saw last night. It was in the New Theatre, a lovely intimate venue – perfect for this particular play. Click on the link for a description of the play, if you're interested. It was well-directed, nicely paced, beautifully acted and very moving. See it if you can.