At the risk of sounding like an oul' fella (which, in actual fact, I am, I suppose), I remember Kiltipper Road (near Old Bawn) when it had a few cottages, a pitch and putt course, the post office sports club and a couple of travellers' caravans. That was 30 odd years ago when I used to cycle/motorcycle/drive (it was, even then, a long-term relationship, you see) up it to visit my girlfriend (now my spouse).
Now it seems like it's one big housing estate with, I guess, a fair amount of negative equity contained within its not so leafy avenues.
In the middle of it is Marlfield Mall, with a Eurospar, a Ladbrokes, a few shuttered premises and the Kiltipper Café Bar, my venue of choice for today. They had included eatforafiver.com in a tweet, you see, and said that they'd been doing lunches for a fiver for the last four years. So, I thought I'd give my usual city centre ramblings a rest and head up the hills to see what was going on.
When I found it (turn right at the roundabout half way up Kiltipper Road and keep your eyes peeled), it didn't look promising. Utilitarian and a little bleak-looking.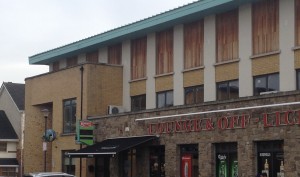 Inside, however, I found a vibrant, warm, well-run, dynamic restaurant-cum-bar.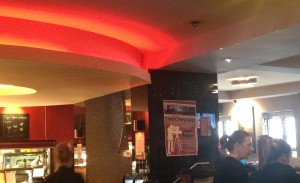 The place was heaving with young families, groups of women and some elderly people. A few older men sat at the bar with newspapers and pints but, for the most part, groups sat at tables enjoying lunch and a chat. Servers whisked around, taking orders, carrying plates of food, clearing and wiping tables, cleaning up spills. The place is pleasantly lit, with several TV screens showing a variety of channels, but none too loud to be obtrusive.
Whoever runs this place has a purpose and that seems to be to make Kiltipper Café Bar a social hub for the area. Their food offerings are cleverly packaged to suit a variety of tastes and pocket depths. They also have a decent range of vegetarian and gluten-free dishes. They serve breakfast, lunch and bar snacks throughout the day, have a carvery on Sunday and have themed nights, including this … (click = big)
It's a pub, yes, but the emphasis is very much on food, or drink accompanying food. And it seems to work, in large part thorugh a busy kitchen and the fastest moving group of servers I've seen for a long time. Despite their busy-ness, the servers were attentive, efficient and friendly.
There are two fiver offerings on the lunch menu: bangers and mash with a spring onion gravy and chicken and mash with a different gravy (sorry – I've forgotten its flavouring). I had seen the bangers and mash on their Facebook page and I went for it.
My food arrived soonish with a glass of water: three BIG pork sausages, three scoops of mashed spuds and a ladleful of gravy with some wilted chopped spring onion.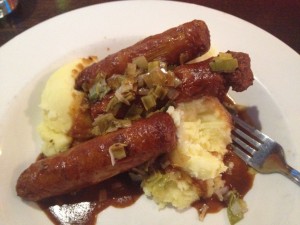 You know that I describe rather than critique the food on eatforafiver.com. I'm only spending a fiver after all and, although I absolutely love it when I get something super-tasty and complex, I'm pretty happy when I get a decent plateful of food. This was a good feed. I might have preferred the spuds to be a bit more buttery and the sausages a little less done but, hey, it was tasty, there was plenty of it, this is a pretty busy place and it cost a fiver.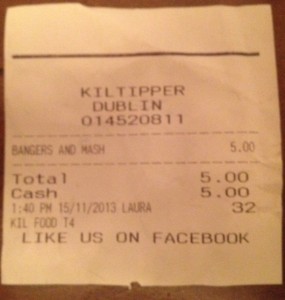 Good stuff.
Dublin city is awash with niche eateries at the moment and there's a real PR battle going on for the hearts and minds of the eating public. With all that going on, we can forget and underestimate the value of a suburban pub restaurant like Kiltipper. It's not serving Michelin star food and it's not pretending to be anything it's not. It's providing a warm cheery venue with lots of activity in a relatively featureless suburban environment. It's feeding people a variety of affordable dishes and it's doing pretty well by the looks of it. And those servers. They can move fast.