I think a lot of people are put off the Temple Bar area by apocryphal stories of violence, licentiousness and anarchy. The only unpleasantness I've ever come across in Temple Bar has been that 'comedian' David McSavage doing some tired and lame routine that involved the public humiliation of some poor unfortunate passer-by.
The place is a bit of a mess (especially Temple Bar Square) but I still enjoy wandering around it during the day, especially some of the streets leading from Dame Street, and its little nooks and crannies. And beyond Parliament Street, the area around Essex Street West has been newly developed and now has a theatrical interest with the brave redevelopment of Smock Alley Theatre. Temple Bar also houses the Elephant and Castle to which the spouse and I retain an emotional attachment from its early days.
Anyway, today's Temple Bar-related adventure was almost serendipitous. The young lad and I were heading for gyozas in Capel Street led on by the Irish Times suggesting at the weekend that a plate of them could be had for less than a fiver. We found, however, that they came in at €6.50.
Undeterred, we headed across the river to a place I had spotted just before Christmas: The Pieman Café on Crown Alley, the street that leads from the back of the Central Bank to Temple Bar itself.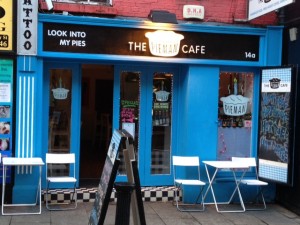 From outside, it looks bright and interesting. Offers are displayed clearly on the window and the sign board on the pavement.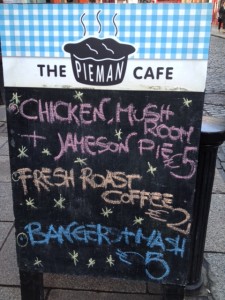 Inside is inviting and comfortable, with interesting artworks, photos and postcards on the wall.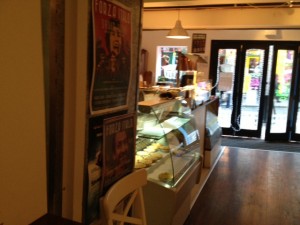 It's quite narrow but the restaurant seats about 22. It's been there for just over a year and has a Facebook page: here.
They offer a pie of the day and bangers and mash, each for a fiver. Otherwise, they have a selection of pies and one other non-pie main course for €6. You'll also see some sides on the menu, some for less than €1, which I think is pretty impressive (having recently seen a bowl of basmati rice offered in Terenure for a shocking €5.50).
The guys behind the counter were friendly and enthusiastic about the place. That really makes a big difference to the atmosphere of an eatery.
We arrived early and the bangers and mash weren't quite ready but we were immediately offered an alternative, for a fiver, without any fuss. Now that's good and thoughtful service. The alternative, which I chose, was Boeuf Bourguignon with mash. The young lad opted for the Chicken and Mushroom pie.
Nice big glasses of water were brought to us and the food arrived pretty quickly.
We'll start with the young lad's pie. A lot of people don't like pies and I've had some pretty poor ones myself, with thick tough pastry, soggy bottoms and insipid fillings. This pie, however, in the words of the young lad, was 'awesome'.
The pastry was thin and quite crispy, with sesame seeds on the top. Inside was a piping hot rich-tasting filling comprising lots of chicken, mushrooms, onions and sauce. It was very good indeed and came in a quite manageable lunch-size portion.
My Boeuf Bourguignon was delicious. Really delicious. Bacon, beef, tiny mushrooms, onions, carrots and herbs in a rich wine-based sauce, with smooth mash. And plenty of it. Delightful altogether.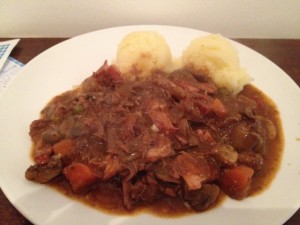 We ate and left soon afterwards because we both had other places to be but it is the type of place where you could quite happily linger with a cup of coffee.
This place is certainly worth a visit or five (they have a loyalty card). Don't be put off if you're not a pie person. That Boeuf Bourguignon was delicious and I'd say from looking at their Facebook page that their other non-pie offerings are pretty tasty too. If you are a pie person, then this is a place you need to try.