OK. So the young lad and I headed into town to visit the Kylemore in the Stephen's Green shopping centre where, I had heard (from the older lad [Happy Birthday Tom!] who had heard from a pal of his), that they did a 4 piece all-day breakfast for a fiver. And for no extra charge, there was a good view over St Stephen's Green. DISAPPOINTED. It's now €5.50.
Thwarted but not dejected, the other options were a Balkan pie in Moore Street, a different type of pie in Crown Alley, gyozas in Capel Street or biryani in Aungier Street. Time and distance led us to the latter.
I've walked and bused (did you know that 'bussed' means 'kissed'?) past this place (Spice 'n' Sugar) a few times. It's at the top of Aungier Street, close to DIT and the junction with Wexford Street, in a small parade of shops and cafés.
Signs on the window advertise Chicken Biryani, Vegetarian Snack Box (with a free can of Coke) and a BBQ Chicken Roll, each for €4.99.
I had had the impression previously that the place was tiny inside but, actually, it stretches back a bit and seats 18, and probably more at a push. The decor is plain and functional, there's no music and, it has to be said, not much atmosphere …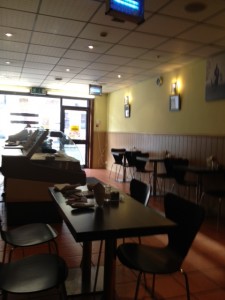 … which is a pity. I can't get a clear picture of who this place is trying to attract but, at lunchtime today, it wasn't attracting anybody except us. It needs to be softer with a little gentle music maybe, a few candles, darker paint and so on. It's just not very inviting.
The bloke who took our order seemed a little distracted. He was later hammering numbers into a calculator with an air of increasing desperation so maybe that was the reason. But a smiley woman went off stage left with our order and we waited, with our free can of Coke.
Our food arrived soon enough but not too soon, if you know what I mean. The young lad had ordered the biryani and I had ordered the vegetarian snack box (on a plate).
The biryani dish was substantial – a large upside-down bowl-shaped mound of rice and chicken, accompanied by some lettuce and red onion.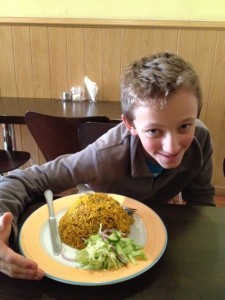 The chicken was tender and the dish was nicely spiced with a moderate level of spicy heat. At a guess, it was flavoured by a commercial biryani masala rather than having been made from scratch. No matter. It was tasty. A little too oily for a biryani, but tasty nevertheless. And there was a lot of it.
Mine …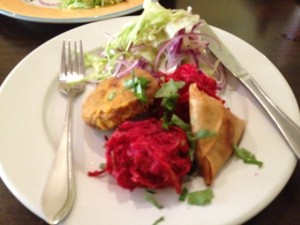 … consisted of two onion bhajis (coloured a vivid red), a vegetable samosa and a potato pakora, accompanied by some lettuce and a lot of red onion. The sign outside promised a chutney and some mint sauce but these never appeared. To be honest, I hadn't noticed at that stage that they were supposed to be included, otherwise I would have asked. The bhajis were ok. A bit oily and certainly not freshly cooked, but tasty enough. The pakora was nice and spicy and the samosa was OK too. I'd say, again, that these were commercially made products but at least they weren't just stuck in the microwave for a couple of minutes.
Together the dishes made a nice and substantial meal for two. If you were there alone, I'd definitely suggest that you go for the biryani.
It was really puzzling to see the place so empty. Maybe it's frequented by students from DIT in term time. I must check the next time I'm around the area. But, as I said, a little more effort on the owner's part in relation to decor, lighting and general ambience could make a huge difference.
There are a lot of restaurants now on Aungier Street, catering for different tastes and budgets but Spice 'n' Sugar kind of falls geographically between those and the budget restaurants on Wexford Street.
Demise
Wandering around town just before Christmas, I saw that three of my previous eatforafiver places have shuffled off: Taco Taco in the Epicurean Food Hall, Mangal Kebabs on Dame Street and the Chinese Buffet on Moore Street. Not surprised about any of them really although, of all of them, I'm sorry that Mangal Kebabs didn't try a bit harder.
CMJ
I don't know whether any of you listen to cricket on BBC Radio 4. For me, it's one of life's pleasures and one of the last places in public broadcasting where there is an acceptance of some measure of eccentricity on the part of the commentators. One of the greats, to my mind, was Christopher Martin-Jenkins, who died on New Year's Day and I'm very sorry about that. CMJ was distinctive, with his crisp diction, received pronunciation and broad vocabulary. When he described a ball bowled or a shot taken, you could see it in your head. And that's what it's all about. CMJ. RIP.