My faith in austerity eating has been restored!
Crossing from South Great George's Street into Aungier Street, I've often wondered about the guest house I've seen out of the corner of my eye on Upper Stephen Street. Upper Stephen Street is pretty dilapidated, unfortunately. Its main feature, purely because of its size, is the headquarters of Dunne's Stores, itself a mish-mash of modern and what looks like 1960s functional architecture. Close by (ish), ignoring the plethora of undistinguished hotels and modern office blocks, however, are Dublin Castle, Christ Church Cathedral, the Iveagh Buildings and the duller Church of Ireland cathedral, St Patrick's.
Directly opposite Dunne's is a hairdressers, a neat looking lunchtime restaurant and the Restaurant Royale …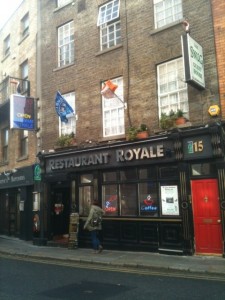 … today's eatforafiver venue of choice.
The restaurant part is physically at the far end of what turned out to be a surprisingly busy bar, on the ground floor of the Snug guest house. The bar is very small but today at lunch time contained about thirty men and two women, all (let's say) over 45 and all drinking pints.
Many seemed to have been there for some time, judging by the conversation volume, the occasional staggering and the frequent outbursts of singing. The atmosphere reminded me of a few pubs (The Bunch of Grapes and Larkins, in particular) my spouse and I used to frequent on Clanbrassil Street in the 1980s before they were demolished to make way for the current dual carriageway.
The pints in the Snug/Royale, by the way, are €3. That's THREE EURO. Probably the cheapest pint in Dublin.
One poor man, by his own weary account, was in charge of the bar and the restaurant. The restaurant wasn't busy, but he was.
The menu is basic. There are a lot of breakfast items and then steak, chicken, fish, salads and chips. The items costing a fiver comprise most of the breakfasts (which I think they serve all day – certainly I saw one man eating one at lunchtime); caesar, tuna or warm chicken salad; barbecue chicken wings and drumsticks; and a steak pie and chips. I ordered the latter, with a glass of water.
I didn't have that long to wait.
OK. So, the pie was a pretty standard issue microwaved steak pie. Because it was microwaved, the pastry was a bit  soft and the contents burned my tongue. Ouch. But that was my fault. It had plenty of meat in it and the meat tasted like beef. Yay!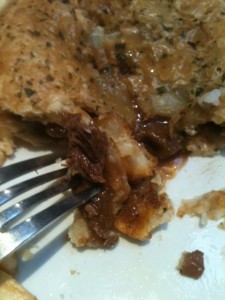 The chips, as you can see from the first pic, were chunky. They may have been part cooked before-hand, but they were pretty good: hot and spuddy, and there was a generous portion of them. For a fiver, this was OK and there were other choices for your fiver, which is good too.
The only other people eating were evidently regulars: lunchtime breakfast guy and two elderly people.
I've been trying to think what circumstances would lead you to eat there. I mean, it's not a first date sort of place.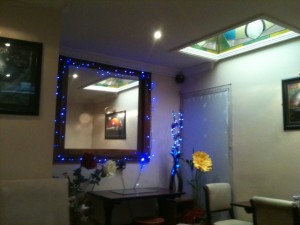 It's not really a student-y place. And you wouldn't really come across it in the normal course of events, either. It's really, I suppose, mainly a local pub for local people (mainly from the Whitefriar/Golden Lane area), that does a bit of food. Anyway, it's another option if you're in the area, hungry and a bit short of cash.
I had a bit of time left on my parking disc so I wandered across to the Asia Market on Drury Street in search of Encona Pepper Sauce. The place was heaving – people mainly buying provisions for the Chinese New Year, at a guess.
They've always had a great range of frozen seafood there, including 1kg bags of huge prawns for half nothing. Today they also had fresh razor clams (which are on my must-try list), and whole live crabs for €1 each. ONE EURO! I love crab and live ones tend to be difficult to find. You can easily buy crab claws in Dublin but not the rest of the crab and I remember hearing some time ago that many crabs are de-clawed at sea and thrown back in to die. I find that a bit unpleasant.
Oh, I nearly forgot. The bill from the Royale …
Three Euro a pint … Cheers.