Archive for the ' Burger Joint ' Category
Every year in January, the young lad takes part in a thing called Kangeiko. This Japanese term is roughly translated as 'winter training'. He's a member of the Hombu Dojo in Ranelagh, a professional, very friendly and expanding karate studio (he's got a black belt – best not to mess him about). Anyway, Kangeiko involves 7 days of meeting at 7am, going for a short jog around the streets of the Ranelagh area and doing some karate training until 8am. On the last day there's a party which, for young members, involves a cooked breakfast. Older members tend to carry on the party in a more traditional manner till later in the day. Parents can join in. I did it last year. It's tiring, challenging and good fun.
Anyway, this is only relevant because at 8am, I bring the young lad somewhere close by for breakfast and then drop him into school.
Sometimes we have breakfast in McDonalds. DON'T JUDGE ME. At least until you've tried it.
There's a fair choice, involving some combination of bacon, egg, sausage, muffins, rolls, porridge, pancakes and coffee/tea/milk/orange juice. Here's the choice in glorious colour. Each item costs less than a fiver and, of course, they do meal deals.
Today, the young lad opted for a Double Sausage and Egg McMuffin meal and I for the Double Bacon and Egg McMuffin meal. The 'meal' bit at the end involves a hash brown and a drink. Milk for him. Coffee for me. Each meal cost €4.95.
Here's most of it …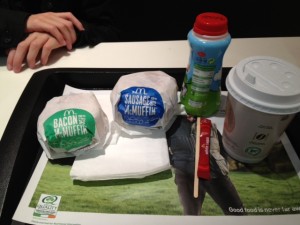 … earning this reaction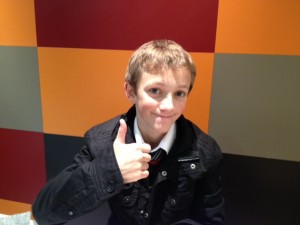 And here's the rest, which came a little later …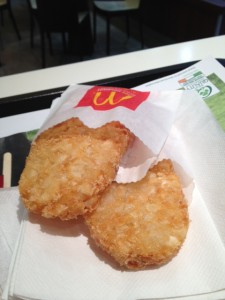 The Double Sausage and Egg McMuffin (DSEMcM) is a glorious creation. Inside the 2 halves of the soft muffin are 1 egg (fashioned into a disc somehow), a slice of cheese (processed, obvs, and oddly square) and two sausage patties. These are the things that make this a sinful delight. They are juicy and sausage-y, but not like ordinary Irish pork sausages. I'm riffling through my taste memory as I type this … I've had sausages in Austria – ordinary sausages – for breakfast. They taste like them. I can't be any more specific I'm afraid. I like them though.
Here's the young lad, road testing the DSEMcM: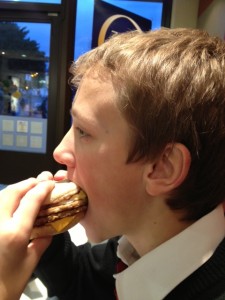 My Double Bacon and Egg McMuffin (DBEMcM) was pale in comparison. The egg and cheese were the same. The bacon was alright, slightly smoky in taste but nothing to dance about.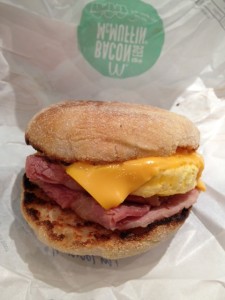 The hash browns which you've seen above are not very nice. They consist of grated 'potato', fashioned into a oblong disc and deep fried. They have no saving grace. They taste of nothing, except deep fry, and they leave a slightly bitter aftertaste in one's mouth. The fresher they are, the less the aftertaste, but it's still there. The milk and coffee were OK.
It probably doesn't greatly matter but the McDonalds we were in was in Rathmines. It's a 24 hour one and was quite busy this morning although quite a few people had left before I took this photo.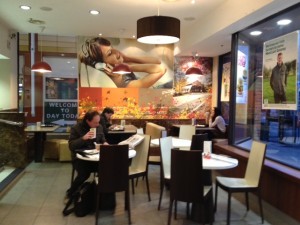 I wouldn't go there everyday and I wouldn't advise you to eat a DSEMcM if you're on a calorie controlled or low fat diet but sometimes you just have to eat stuff like this.
By the way, you'll be pleased to hear that, according to Hypestat.com, eatforafiver.com, as a site, is worth just over $11.