You can't ignore them: Burger King and McDonalds. They will, no doubt, always be with us. I well remember entering the spanking new McDonalds in Grafton Street in 1977, shortly after it opened. It was bright, clean and shiny and it sold root beer, which I tried – once – ugh.
Now they are everywhere, and they are quick and convenient. And sometimes a burger is what you need. Particularly when you get to the hunger stage just past the 'I wouldn't mind something to eat now' stage.
I'm not sure why, but I prefer Burger King to McDonalds. The beef in the burgers seems to taste better, although that's probably down to salt and fat content. And, of course, they do the Bacon Double Cheeseburger which I like.
While I love chipper chips, with their salty vinegary-ness and their end-of-the-bag soggyness, I also like burger joint fries for their thin crispy quality, and do I love it when you pull an unfeasibly long one out of the bag.
I work beside Nutgrove Shopping Centre in, well, Nutgrove, between Rathfarnham and Churchtown. It's where I do the weekly shop on Saturday mornings – early, before it fills up with ditherers. Nutgrove has a Burger King, a 'drive-thru' McDonalds, a Subway, a food court of sorts with outlets selling pizza slices, pretzels, rolls, paninis and the like, and an Indian restaurant which I've never been in.
The Burger King is quite small with both tables and raised seating at counter tops. It's usually busy and today it was particularly so with many people, like me, trying to get the Christmas food shopping out of the way before the madness of the weekend.
Burger King has an 'Extra Value Double Meal' deal running at the moment …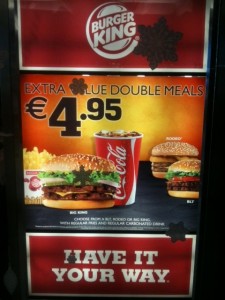 As you see, it's a double burger (with a choice between a BLT, a Rodeo (no, me neither …) and a Big King), small fries and a small soft drink. I went for the Big King with Diet Coke.
Unlike in McDonalds where they take your order and you wait at the till until the order is filled, in (this) Burger King, once your order has been taken you step aside (while they take other orders) and wait until someone waves your tray about and shouts out what's on it. The result seems a little chaotic but it appears to work.
I took my tray, found a table and tucked in.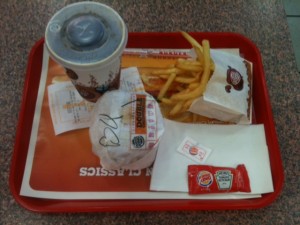 What can I say? The thing about these places is that the food is pretty consistent. I always eat the fries first. Not sure why – it's just what I do. They were crunchy, thin and hot – not tasting of much but that's what you expect.
The burger was quite small in diameter and comprised two beef patties, some plastic cheese, lettuce, onion and a yellow/orange sauce that was vinegary (but not too much so) and seemed to contain chopped gherkins.
Here's the innards …
I think that sauce is the one they put in the Whopper and I'm not really a huge fan. It tastes a tiny bit like sick.
(Seems like you'll have to watch this on the YouTube site, but it's worth it: see 0:16 …)
I can't think of anything more to say about this. If you're hungry, it's food and it's filling and it's cheap. It's not fine dining. It's not exciting. It's not at all memorable.
So, it's almost Christmas. I like Christmas Day – the preparing, the cooking, the eating, the giving and receiving of presents, the cracker hats and so on. The rest (both before and after) I find stressful. And judging by the drawn and harried faces of many in Nutgrove today, I'm not alone.