I think I need to give Belly Bites another go.
Last April (as I'm sure you remember!) I visited Mama's Revenge on Nassau Street and they told me that they had opened another branch on Thomas Street. I meant to try it out but I never did. Now I can't because it's been Belly Bites since last November, with a new owner but still looking very like its erstwhile sibling.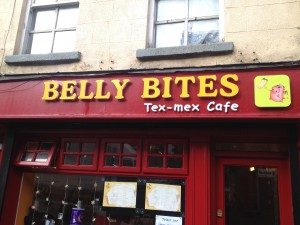 It's Tex-Mex, serving a variety of burritos, quesadillas, nachos and the like but one of the things that attracted me, despite the weather, was the possibility of putting together a customised 'salad' box. Part of this attraction was a suggestion on Twitter that I should try to feature some gluten-free foods in the blog. Not something I had given much thought to previously but now I was on the look out.
Belly Bites is on Thomas Street, just across the road from the junction with Francis Street. Close enough to NCAD.
It's boards above the counter suggest that it welcomes students …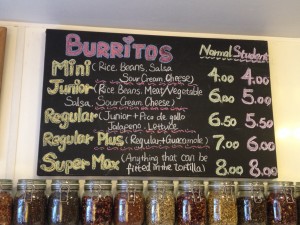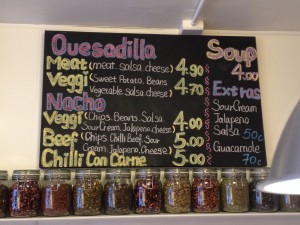 … and its prices are competitive. But, then again, Luncheonette in NCAD seems to have captured many of the hearts and mouths of NCAD staff and students.
Belly Bites is not on Facebook or Twitter (yet) and it hasn't made itself onto Yelp either. So it's a little underexposed. Certainly compared to other burrito places in the city.
The soup (last Friday) was gluten free –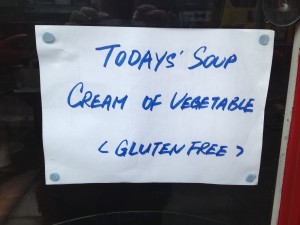 – and the menu in the window …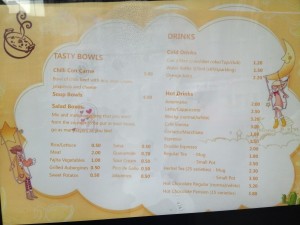 …  indicated the range of things I could put in my salad box for a fiver.
Inside, Belly Bites is warm and colourful.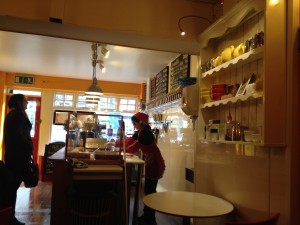 I asked for my salad box in a bowl and chose pulled pork, sweet potato, aubergines, pico de gallo, sour cream, cheese and a hot salsa. I'm not an expert but that sounds pretty gluten-free. I handed over my fiver and sat down.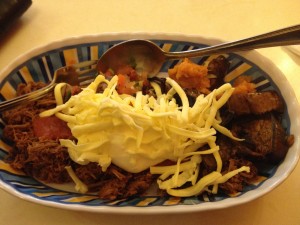 There it is.
It wasn't hot. Why? Well, the clue is in the title: salad box. I suppose I kind of assumed that the pulled pork and vegetables would be warmer than they were. But despite being served from a bain marie, they were lukewarm before they were put in a cold plastic bowl. And, of course, I insisted on the dollop of sour cream on top so I must bear some responsibility for the final temperature.
Notwithstanding its coolness, the constituent parts were tasty and although I got the last scrapings from the sweet potato container, there was a reasonable amount of food in the bowl for my fiver.
The reason I'd like to give Belly Bites another go is that everything I've written above sounds as lukewarm as my lunch. However, I don't think it's fair to judge it on the basis of ordering a salad box on a cold wet day in February. The place is quite new. Winter couldn't be a great time to try to get a small eatery established. Their burritos may be awesome.
I can't help feeling that Thomas Street needs a colourful place like this and I'm hoping it'll be there for a while yet.
If anyone reading this has been to Belly Bites, please let me know what you think.