The frabjousness of the day arose first in McDonalds, Rathmines this morning, where the young lad and I indulged in the complementary Sausage and Egg McMuffins on offer.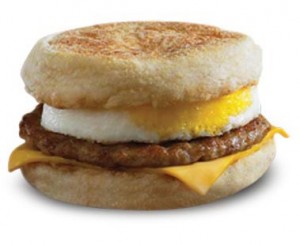 I've waxed lyrical about these before. So let me just say this: if I was facing execution and I was asked what I wanted for a final meal, the Sausage and Egg McMuffin would be pretty high up the list. It's the junk food equivalent of getting back into a warm bed on a cold morning when you don't have to go to work.
Frabjous item number two was collected on the way out of town following my eatforafiver outing described below, from the comfortingly friendly Corner Bakery in Terenure. Here's the ones that I didn't eat …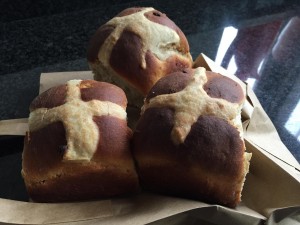 None of your over-sweetened supermarket hot cross crap. These are things of spicy goodness, light and airy, that, with a generous coating of butter, in the words of John Martyn, …
---
And so to more mundane matters. Today, for lunch, I ate this …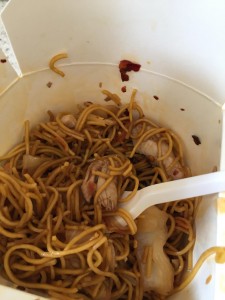 … here …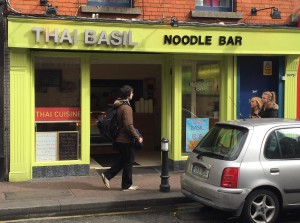 … which is on Liffey Street, beside the Istanbel place I went to recently.
It was, I have to tell you, a big box of food (I chose Chicken Noodles). It comprised mainly thin noodles, with onion, red and yellow pepper, sliced cabbage, shredded carrot, not a massive amount of chicken and a generic, slightly sweet, sauce. It was tonged into a box by a server in a hat and a broad smile who asked me if I liked it spicy. My 'yes, please' triggered the application of a small spoonful of chilli paste on top. I sat, ate and filled the gap.
Thai Basil is, to be honest, nothing special, but if all you want is some quick flavoursome fuel in the middle of the day, while you sit in bright, clean surroundings, then you could do a lot worse. There are five chairs against a counter on one side of the small premises but most of the customers who came in while I was there took their food away. Here's a selection of the menu offerings …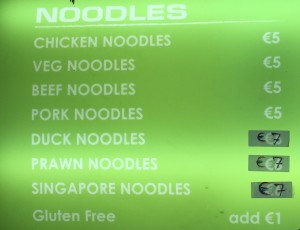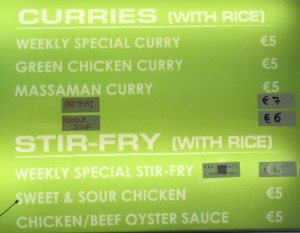 … and here's the food on display …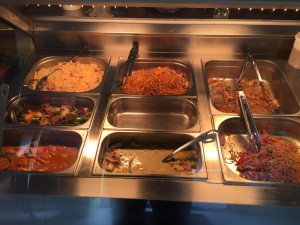 OK. So that's really all I have to say about Thai Basil.
Wandering around the area afterwards, I spotted Mission (just beside the evangelical Games Workshop, opposite the aul' wans sculpture on Liffey Street). Cheapeats.ie tweeted about it recently. Its menu contains a few tasty items for a fiver or less, so it's going on the to-do list.
In the Epicurean Food Hall there's a Spanish place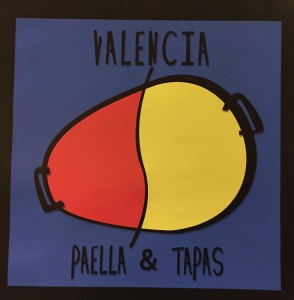 that does these …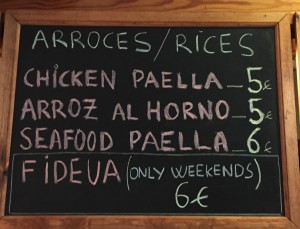 And then on Bachelor's Walk, pretty close to O'Connell Bridge, there's a student offer from Apache Pizza …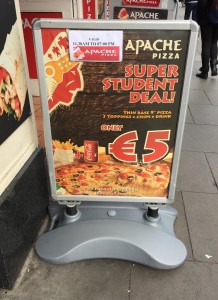 That's it. It's been a long week. I'm going to drink gin.