So, yes, I was in a film, set in Belfast but shot in Dublin in the early 1970s. It was a made-for-American-TV film called 'A War of Children', starring Jenny Agutter and Anthony Andrews among others. The only reason I mention it (well, apart from pure vanity) was that the opening scene was shot just off Harcourt Road, the location for yesterday's eatforafiver adventure. Interestingly (to me anyway) the road on which the scene was shot no longer exists. It was Old Camden Street which kind of curved through what is now the Camden Hotel. Charlotte Street, which continued from Charlemont Street to Camden Street is also gone.
(There's more information about these streets and the history of this area on wideandconvenientstreets and comeheretome, if you're interested. Both of these sites are fascinating if you're at all keen on finding out more about the history of Dublin.)
The Birdcage Bakery…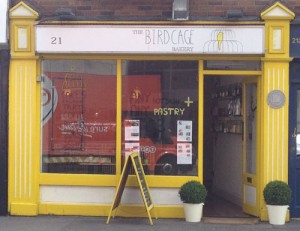 … is at 21 Harcourt Road, between the Soup Stop (previously described here) and an Abrakebabra (another branch of which I dealt with here). It's been open since November 2013 and has been the subject of loads of reviews, including ones from Lovin' Dublin and A French Foodie in Dublin. There are also consumer reviews on Yelp and on its own Facebook page. Overwhelmingly positive. And I'm not going to disagree.
I got there early, just before 12.30pm mainly because I'm fed up arriving at places when half the food is gone. Also, I saw on their Facebook page that there weren't that many seats. (It seats about 10 or so but it's mainly a take-away place.) I was greeted warmly (nice) and the choices were explained clearly. You do have to look in different locations in the Birdcage for the price of things and maybe making their price list a bit clearer is something they could look at for the future.
There's a good choice of food … (click to embiggen)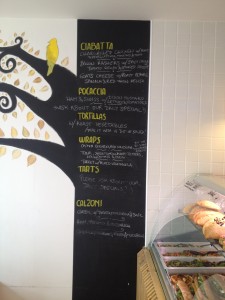 … and most of the single items (wraps, calzoni, and so on) are under a fiver. They also do deals …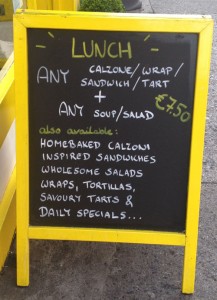 My crappy photos …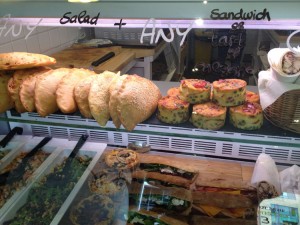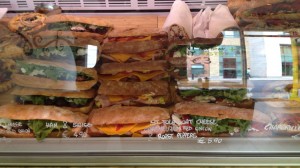 … give no sense of the portion size but let me assure you that the items are pretty substantial, especially the calzoni. As you see they also do soup (but not on hot days), coffees and tea, and a range of scrumptiously delicious looking cakes and biscuits (this pic shows only a small selection of the sweet goodies on offer) …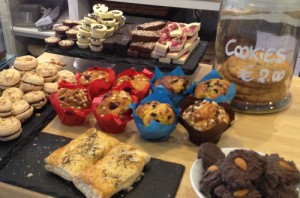 A French Foodie's review was tacked up on the window and I saw that she had had a salad box for under a fiver, so that's what I opted for too although the salad boxes aren't advertised or listed anywhere that I could see.
For my fiver I got a large salad box (a small one is a fourer) comprising these salads here …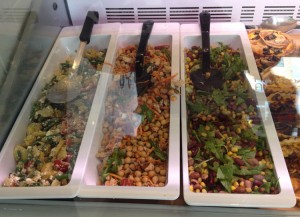 Ok, so from the left: potato/feta and cherry tomato, chickpea and chicken, and bean and rocket: each dressed freshly and not an ounce of mayonnaise in sight.
The salads are spooned generously into a plastic box and, if you want to eat in, the box is served on a slate.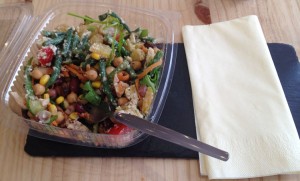 Water was offered and accepted gratefully. A fiver changed hands. I sat and ate.
The Birdcage Bakery is lovely and bright, decorated with appropriate murals …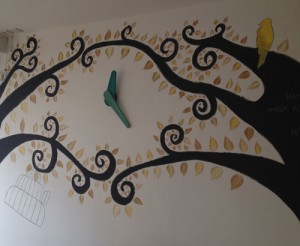 and shelves containing coffee and ingredients.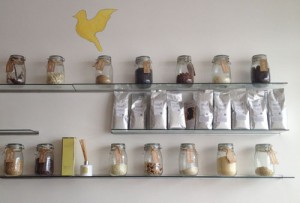 It's a pleasant place in which to spend a bit of time although one is always conscious of the substantial traffic that seems to speed along Harcourt Road.
Its natural customer base must be the offices opposite and around the corner on Charlemont Street. It's not a long walk from Adelaide Road and Hatch Street either and I'm sure that they've done their marketing there too.
The salads were gorgeous. They were fresh tasting, interesting and quite filling. I love beans and chickpeas anyway so … yeah… good. I'll go back and I do recommend that you try this place if you work anywhere close. It opens at 7.30am for breakfast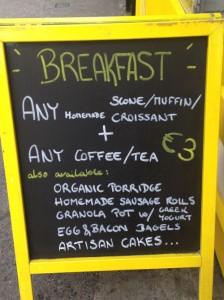 and closes at five.
My fiver spent, judgement made and integrity upheld, I then had a flat white (€2.50). Oh. Yes. Well-made. Gorgeous.
Do try The Birdcage Bakery out. It's restored my faith in the eatforafiverthing.
If you work nearby, by the way, please give Darragh next door in Soup Stop a bit of your custom too. I'd love to see these places continue to do their independent thing.
To end, here's a gratuitous picture of our cyclamen …