Oh.
I had been looking forward to this for a while. The plan was for the young lad and I to celebrate the mid-point of his mid-term break with a flame grilled feast. The Aussie BBQ on South Richmond Street was to be the venue.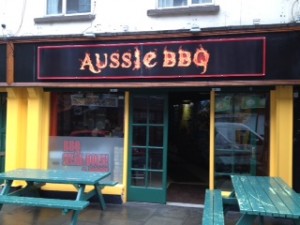 The website looked promising. Inviting even. Inside the main door is a lot of space with a food preparation area behind a long counter. A large wall menu indicates the principal offerings with several items for a fiver or less (wraps, wings, skewers, chips).
Another door leads to the 'Restaurant Area'. A long space with tables against the walls.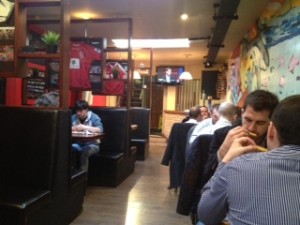 The decor is mainly sport-related, with signed rugby shirts, photos of jockeys, cricket bats and so on. A 'Man v Food' -type challenge is advertised in one cubicle.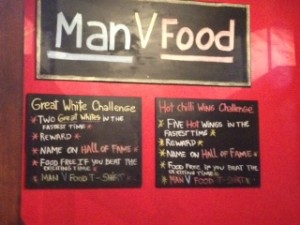 Two large TVs showing last night's Champion's League action topped and tailed the eating space.  All very male. In a kind-of sweaty, pelvic-thrusting, beery-breath way.
Service was friendly and efficient. We ordered wraps, chicken for the young lad, pulled pork for me, each €4. Water arrived in a stoppered bottle. The young lad pronounced the water 'nicely chilled'.
Our wraps arrived. The first bite was taken.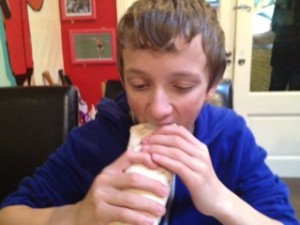 It looked OK …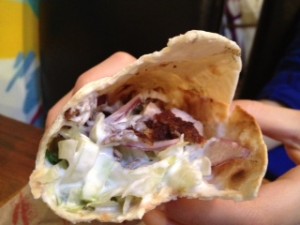 … but the young lad wasn't impressed. Asked to elucidate, he suggested that the chicken didn't really taste of anything. I had a go. He was right. The chicken was in the form of 'tenders': strips of breaded, deep-fried chicken. It tasted principally of the oil it had been fried in. The lettuce and mayonnaise in the wrap didn't taste of much either. Just blandness.
My pulled pork wrap included some coleslaw-type substance and a cloyingly sweet and sticky sauce/chutney. The sweetness was overpowering and not at all pleasant. On occasion I was able to taste pork, and it tasted pork-y but it was difficult to ignore the sauce.
I won't dwell, as we didn't. The man who took my money asked was everything to our satisfaction but didn't seem that interested in my polite but critical response.
To be fair, the burgers and chips coming out of the kitchen looked pretty good, the place was busy enough and there was a lot of chat. We might have been better to choose items other than wraps. We could have got a couple of chicken skewers and a portion of wings for €9 and that might have provided a better impression of the place. But we didn't. And we left a little disappointed.