I try to eatforafiver each week but sometimes real life takes over – you know, family, paid work and so on. So last week didn't happen.
Today, my target was Speak Easy on both South Great George's Street and Dame Court. Catherine Cleary had a note about it in last Saturday's Irish Times where she mentioned that you can get a pizza there for a fiver. Speak Easy is where Shebeen Chic used to be. I never ate there but I always liked the look of it and I enjoyed wandering around the Saturday market there. Anyway, it closed and Speak Easy is in its place. When I got there I found that it doesn't open until 5pm. So …
I looked around and remembered that the Centra on Dame Street, opposite South Great George's Street had both cheap food and a seating area. So that's where I headed.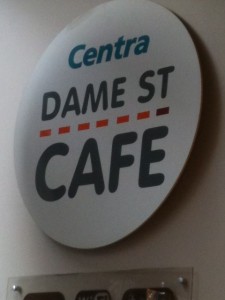 The place is rather grandly called the Dame Street Cafe. Inside it has no pretensions. Indeed, it's a rather functional place. At the back of the convenience store part of the Centra is a longish and very busy food counter. They do the usual range of filled rolls, sandwiches, paninis, plain-looking soup and so on. But they also do quite a range of hot food, much of it for a fiver or less.
Included are ten inch pizzas with a variety of toppings, quiche, lasagne, meat or veg pies, 'gourmet' pies and chicken or beef noodles. In fact, today, they had a special offer on noodles: chicken or beef noodles with stirfry vegetables and a choice of about six sauces, for €2.99. A pretty decent helping too, freshly prepared in front of you. They also have an all-day breakfast offer for a fiver.
I opted for the quiche. For my fiver I received a decent slice of vegetarian quiche (the other option was bacon and spinach), three 'dry' salads (i.e. ones without mayonnaise) and a portion of chips, wedges or potato cubes (I chose the cubes).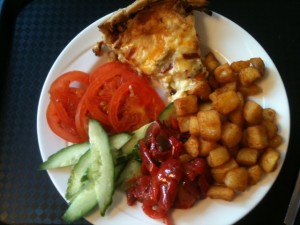 You take your tray, pay at the shop till and find a seat. The seating area comprises about twelve small round tables, some with chairs and others arranged in front of a banquette. When I got there, at about 1.30pm, quite a few were occupied but by the time I sat down, most were free, but not cleared (or cleaned).
It's a busy place. Most customers opt for filled rolls and there are four or five staff members behind the counter filling orders. Service is quick.
My quiche slice was generous. The vegetarian bit was fulfilled by some onion and very thin slices of pepper but it was mostly a creamy eggy mix and pastry. I'm not going to write about the quality of it. It was a mass produced quiche. And it filled a gap. My salad consisted of some tomatoes, slices of cucumber and some mixed peppers in oil. All inoffensive. The potato cubes were cuboid.
This isn't fine dining, nor did I expect it to be. I did expect the quiche, having been heated, to be hot. It wasn't. The surface was warm but the inside was cool, and not in a good way. The potato cubes weren't hot either. I'm not hugely fussy about temperature and I ate the food but I'm sure others wouldn't. But, hey, it only cost a fiver and it was filling. And, on a bitterly cold day, I ate sitting down in a warm building.
My favourite thing to do on Dame Street is to walk near the College Green end and look up. The tops of the buildings are astonishing: ornate and beautiful. Further on, I have to admit a liking for the Central Bank building. It then becomes a bit of a mess until you get to the City Hall. City Hall is a treasure both inside and out (especially when viewed from Parliament Street).
There used to be a tiny park just beside it with some interesting old sculptures. It was replaced some years ago by what may be the ugliest building in Dublin. A grey anonymous piece of crap that could only have been conceived by an artistically and aesthetically bankrupt architect and given planning permission by a bunch of ethically challenged idiots.
Enough. Oh. The bill …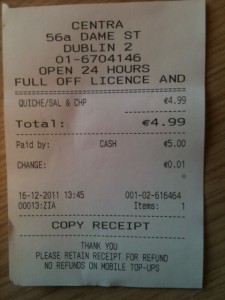 Just by the way, opposite the Dame Street Cafe is a Spar which also has a good range of food for a fiver. Not much seating but noted for a further visit.
As a final note, I met an old college pal during the week and we ate in Kanum on Mespil Road. It's primarily a take-away but they do have a reasonable seating area and a special lunch menu. There's a few soups for a fiver. But they also do a daily special lunch deal comprising a main dish, boiled or fried rice and a bottle of sparkling or still water. It's for €9.99. The thing is – the portions are incredibly generous. Enough, if you're not ravenous, to share between two on the plastic plates they supply. Jack, my godso,n tells me that Kanum also do fiver deals for those lucky enough to be students.