I've been in two minds about this. When I started the blog, I kind of had a mental rule that I wouldn't include soup. After all, it's not much of a challenge to find soup and bread at lunchtime in Dublin for a fiver or less.
What swayed me to write about Soup Dragon was the nature of the soup I had on Friday and the neat little package they've put together …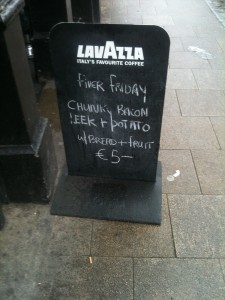 Fiver Friday has a nice ring to it. Each Friday, Soup Dragon has a special offer. As you see, it's a soup (although the previous week it was a stew), bread and a piece of fruit for a fiver. Their Facebook page provides the details each Thursday and, of course, you can see previous offerings there too. Quite a variety.
Soup Dragon is on Capel Street, at the end nearest the river. Not so long ago Capel Street was a scruffy thoroughfare, a street one had to drive along to get from Parnell Street to the south side. It's changing now. Lenehan's is still there, as is Brereton's jewellery and pawn broker shop, McQuillan Tools, the martial arts equipment shop at the corner of Mary Street and a few of the more famous pubs. The discount furniture shops that used to plague the street are fewer now and there are many more restaurants on the street, mostly offering food from the far east. There also seem to be quite a few eastern European foodstores. It's still scruffy but it's a lot more interesting now, and (almost) a pleasure to walk along.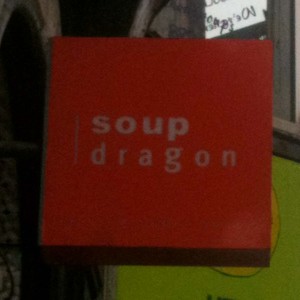 Soup Dragon is open from 8am to 4pm, Monday to Friday and from 11am on Saturday. It's small. Very small. Most of it is taken up by the kitchen and service counter, with the seating area comprising a counter-top and about 10 seats. When I passed it the previous week, it was packed but on Friday, admittedly at 1.45pm, there were plenty of seats available. It was a bitterly cold day with stop-start rain.
I ordered at the counter and sat. My soup was delivered promptly. It was a big bowl of soup with fresh chives scattered on the top. On the plate were three sizeable chunks (not slices) of very fresh bread and a foil wrapped portion of butter. Jugs of water and plastic beakers are available on the counter top.
The soup was bacon, leek and potato. It was thick, based on stock that had no discernible artificial aftertaste, and contained huge chunks of bacon, melt in the mouth lumps of potato and identifiable bits of leek. It was pleasantly seasoned and, most importantly for me, not too salty. The thickness of the soup seemed to be based on potato, rather than flour or corn flour. It was tasty. And substantial – a lot more substantial than some of the other eatforafiver meals I've had. (The fruit, by the way, one takes from a basket on the way out.)
Soup Dragon is pretty busy as a take-away. In the short time I was in the place, there was a steady stream of customers, most of them ordering the other available special offer: take-away vegetable soup with a piece of fruit for €3. They are strict about not allowing take-away customers eat their food on the premises, which is fair enough.
The other food on offer in Soup Dragon includes various breakfast options, sandwiches, smoothies and a huge variety of different soups. They are also taking orders for Christmas puddings. Interesting.
By the way, thanks to all who sent me suggestions for places to eatforafiver. I'm looking forward to trying them out.