So … Ballymount. Not my first choice of location for finding lunch but, actually, it turned out OK.
Why Ballymount? Well, son #2 somehow managed to lose the battery from his phone (I know – don't ask) and a very helpful person in Carphone Warehouse (where they ALL seem to be helpful) suggested contacting a place called Vibe Centre, which I did. They had a replacement battery in stock (for a tenner) and so I called into them at lunchtime. The Vibe Centre is an amazing place in the Robinhood Industrial Estate that sells bits of, and accessories for, all types of mobile phones.
Battery bought, I felt, much as Pooh felt, that it was 'time for a little something'.
The Ballymount area is spectacularly unattractive with a lot of what look like newly vacant warehouses and older dilapidated industrial units. It's also not that flush with places to eat but eventually I spotted a Spar and thought that, if I couldn't find anywhere else, I'd grab a roll in there. As I drove in to the Ballymount Retail Centre (for that was where the Spar was located) I spotted Josh's Place, packed with what seemed like happy people eating.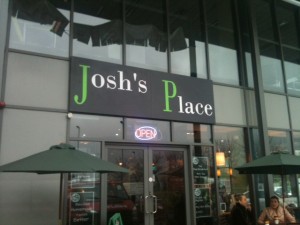 To be honest there's not a lot of choice for a fiver but, if you could stretch to a tenner you could choose from pretty well anything on the menu. They have a good selection of food from breakfasts (I saw one of them being served – it was massive) to salads to three kinds of soup to pasta or meat dishes. It's a counter-service place and the staff were helpful in explaining the options (I seem to have hit a good vein of helpfulness today, which was pleasing).
I chose a salad plate for €4.70 which, apart from soup and bread (which I don't really count as a meal for the purposes of this blog) was the only thing available for my fiver. No meat (that would have added an additional €1.25) but the portion was very generous.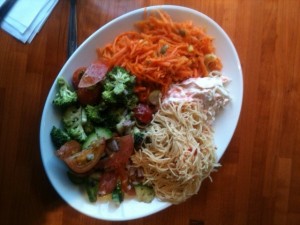 The salad plate comprised shredded carrot with celery and herbs; coleslaw; noodles tossed in a sweet oriental sauce; broccoli, cherry tomatoes and red onion; and sliced tomatoes with cucumber (and a little more red onion). All the salads tasted fresh and the dressings in which they were tossed were well-balanced. (I'm not a fan of over-vinegared dressings which do seem to be quite prevalent.) The coleslaw was a little too mayonnaise-y for me but that's really a matter of personal taste (and concern over my stubborn waistline).
I grabbed a big glass of water and some ice and made may way to a table. It was about 1.30 and some people were making their way back to work so I was able to find a space without too much bother.
The place was buzzing with animated conversation and, for those eating alone, there were newspapers and FREE WiFi. FREE WiFi – are you listening, all other restaurants, cafés and bars in the city? Free WiFi is a BIG draw for me.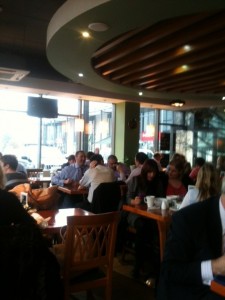 The salad was good and filling and I genuinely enjoyed the atmosphere in the place. There seemed to be plenty of staff serving and clearing away and they were pleasant and smiley, which was nice.
In the Retail Centre there's also a Subway, which does a 6″ sub and a medium drink for €4.95, and the aforementioned Spar, in which one can sit/perch and eat a 9″ pizza with three toppings for a fiver.
Unless you work nearby or are in the market for power tools, fitness equipment or expensive office furniture, there wouldn't be much to bring you to the Ballymount Retail Centre, I'm afraid but, if you happen to be within shouting distance, Josh's Place is well worth a visit.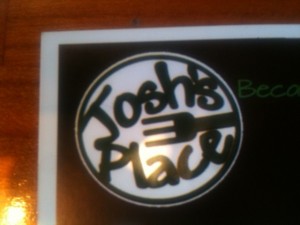 And finally, another quote from Pooh: "Sometimes, if you stand on the bottom rail of a bridge and lean over to watch the river slipping slowly away beneath you, you will suddenly know everything there is to be known."