So who would have guessed? Paella for a fiver at the bottom of South Great George's Street.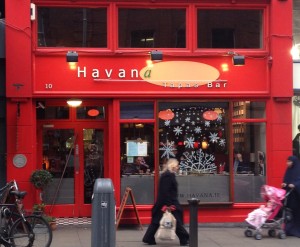 Havana Tapas Bar sent me a tweet recently which is just as well because I doubt that I would have noticed that they did anything for a fiver at all. Their offer is available on Mondays only, which is fair enough, and it's a decent portion of either chicken and chorizo or seafood paella, and it costs €5.
Havana a pleasant restaurant: spacious, busy, comfortable, with newspapers available and free good quality wifi.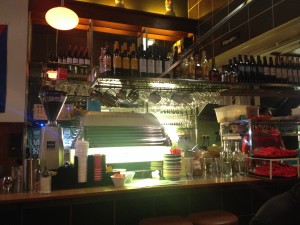 Service is efficient but not rushed: what one would expect in a busy city centre place at lunchtime. The clientele was mixed: some office workers, at least one family, a few couples, several solo lunchers and maybe a few tourists.
Havana serves a regular lunchtime menu with items ranging from about €6 – €9, including soups, wraps, sandwiches, omelettes, meat dishes and paella. It also has take-away offers …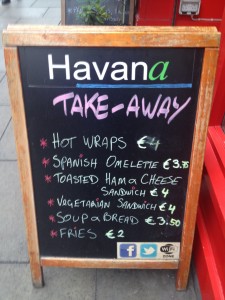 … and a student deal for €6.50. I thought I took a photo of that to remind me what it comprised, but I didn't.
My paella arrived soon enough and I was pleasantly surprised at the size of the portion.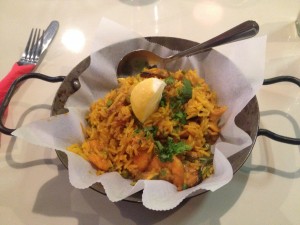 It's very nicely presented, as you can see, in a small metal paella bowl, lined with parchment. I was a little apprehensive that, as it was a cheap deal, there wouldn't be much seafood in it. My apprehension was misplaced. There was an abundance of prawns, mussels and calamari, together with green and yellow peppers, fresh parsley (as you can see), peas and, of course, rice. I'm not that familiar with Spanish food. I've eaten paella several times in the Balearics but not enough to be able to cast judgement on this one. So, I'm just going to say this: it tasted good (flavoursome stock), it was filling and seeing as how the usual menu price for a regular sized portion of paella in Havana is €9.95, it's good value.
A Monday fiver deal is an excellent idea: Mondays are slow in restaurants and anything that draws attention to ones that are open seems like a sensible initiative.
You'll find Havana on Facebook and Twitter also, if you need to. You'll get a closer look at those small pieces of art if you click on the photo section of their Facebook page. I covet many of them.