So, apropos the forthcoming referendum (the one that few people are talking about), the young lad reminded us that Michael Collins was 30 when he was killed. Just one example to counter the exclusionists who consider that nobody under 35 has had sufficient experience of what life has to offer, to be able to do the things that Presidents are required to do. To my mind, if you're old enough to vote, you're old enough to stand for President. I thoroughly dislike exclusionist politics. I'll be voting yes. In both referendums.
For lunch, I decided to revisit a place I felt I had been a little unfair to the first time around. It's a little place on Thomas Street, just opposite the top of Francis Street: Belly Bites.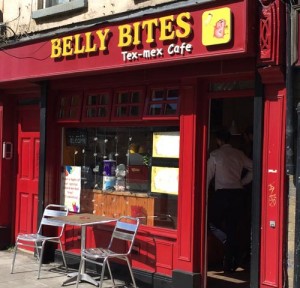 I wrote about it before and gave it a lukewarm review but I did suggest then that ordering a salad at 1.45pm on a wet, cold February day, and criticising what I got was hardly just.
This time I got there at about 12.50pm. The place was humming and all the tables (there are only four) were filled with (male) lunchers …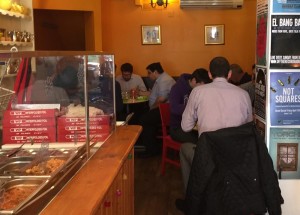 … munching on burritos and quesadillas, as far as I could make out. It was a happy hum, supplemented by frequent calls of 'next please' from the servers, summoning orders from an ever-growing queue (both genders) which, at one stage, crept outside the door.
Belly Bites specialises in Tex Mex food: burritos, quesadillas and chilli con carne especially, which makes it altogether odd that I ordered a salad the last time I was here.
The prices are reasonable and, given its proximity to NCAD (the virtues of which I have acknowledged previously), there are plenty of discounts for students on the burritos menu.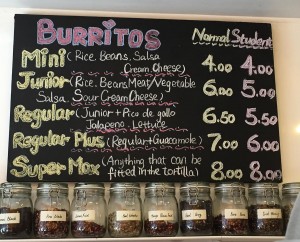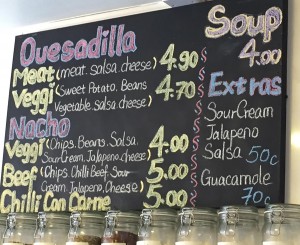 I ordered a bowl of chilli con carne. A sizeable bowl was lined with rice, on top of which was spooned a good portion of chilli. I agreed to a sprinkling of grated cheese, and the bowl was whisked into a heating device under the counter. Upon its reappearance, jalapeños and soured cream were applied, again following my agreement, and the bowl was exchanged for a crisp-ish fiver.
I sat at a long counter opposite the serving area, read the graffiti wall (a hangover from Belly Bites' previous existence as a branch of Mama's Revenge) and tucked in.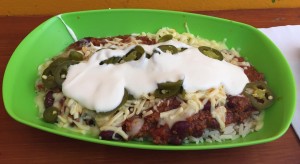 It was plentiful, filling and tasty, with a pleasant chilli heat, provided mainly by the jalapeños.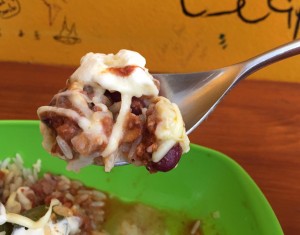 It could have been hotter temperature-wise, but I suspect that the pressure of orders diminished the time available for reheating.
The wall provided further evidence of customer satisfaction …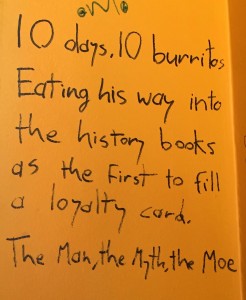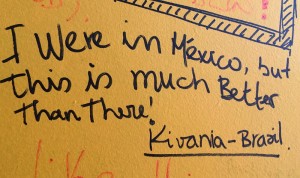 and this …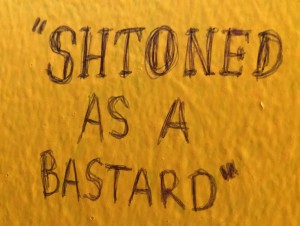 I'm happy to revise my impression of Belly Bites. Good value for your fiver. Even better if you've a student card. Opening hours are 12 noon till 8pm Monday to Friday and 12 noon to 5pm on Saturdays. Belly Bites also does a full range of coffees and teas. It doesn't seem to be anywhere on the internet (not even on Yelp), by the way, hence the absence of links.