My intention had been to go to Burdock's in Rathmines for a battered sausage and chips. It was a reluctant intention, to be honest. Christmas has left me rounder than I'm supposed to be and chips would be unlikely to help.
In the back of my mind when I got to Rathmines, however, was a place that I thought was in the old civil defence fire station nearly opposite the library. This place is now called the Mart and is an art space/gallery which I thought, wrongly, had a café in it. So when the reluctance got the better of me, I turned right rather than left and headed to it.
It was empty and café-less but a sign suggested that the café part of it was located further up Lower Rathmines Road. So that's where I headed.
The place I was looking for is next to the big church with the green dome, at the canal end of Rathmines Road. I think it's where the Blackberry Market used to be some years ago, so called because of its proximity to the attractively named Blackberry Lane.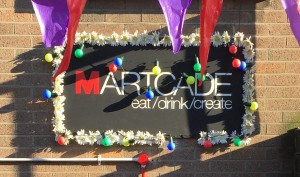 The Martcade is a multi-purpose space. Its entrance opens into a corridor on either side of which are small rooms which seem to be artists' studios. At the end of the corridor is a large space containing Hawker (the café I was looking for), a variety of chairs and tables, a large screen, board games, a games console and other bits and pieces.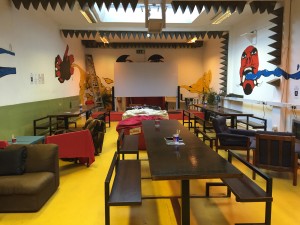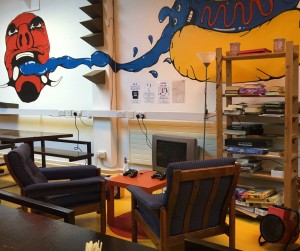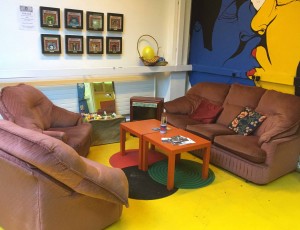 The place is bright (a little too bright really) and the walls are decorated with large brightly coloured round face-like shapes.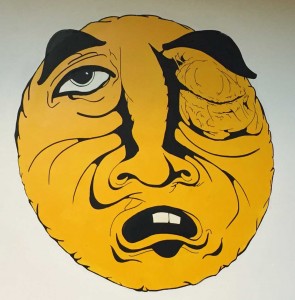 A4 sheets tacked to the wall advertise cinema nights, a father and kids group, a clothes swap shop and an exhibition at the Mart.

It has free wifi and, once I got used to the brightness of it, I found it a pleasant relaxing space to be in.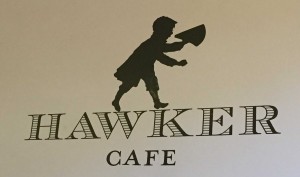 Hawker Café offers a good variety of coffee offerings, pastries and other sweetmeats, soup, salads and sandwiches.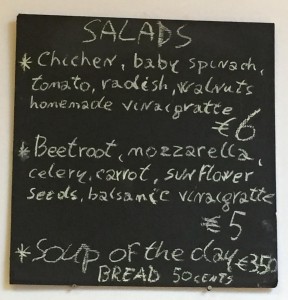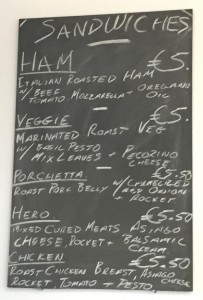 Taking the advice of the helpful man behind the counter, I opted for a Veggie Sandwich. Now, as regular readers will know, I don't usually do sandwiches in eatforafiver, so I was in two minds as to whether Hawker was going to end up in this blog.
What I witnessed being assembled with some care, however, was not just a sandwich but a work of culinary art. Well … I'm exaggerating of course. It was pretty good though, and was made, thoughtfully, in several stages. The bread with the roasted marinated vegetables and slices of pecorino was heated in a panini grill. Lightly dressed rocket leaves and a thin spreading of garlic mayonnaise were then added before the resulting creation was presented to me on a small tray.
Here's the finished product: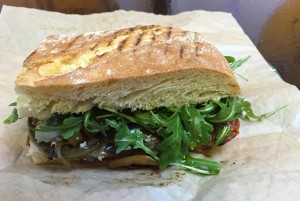 And a closer look: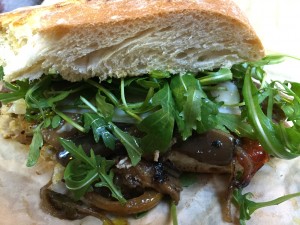 It was an unpredicted riot of textures and taste. Crispy crust. Soft yielding bread. Slightly warmed succulent vegetables. Fresh rocket leaves. And the gentle tang of the pecorino. Really tasty. And very filling. Messy too, in a good way. In other words, it didn't destroy my shirt but there were lots of bits to hoover up after the main part of the sandwich had been eaten. Lovely.
The fiver exercise over, I went back to the counter to order a flat white. I spotted cannoli. I succumbed.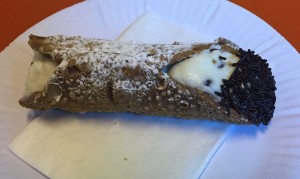 Oh sweet ricotta …
Here's a link to the Martcade website. It's interesting: a new type of commercial social space offering opportunities to create, meet, relax and consume.
This is the brochure. You'll have to click on it a couple of times to be able to read it.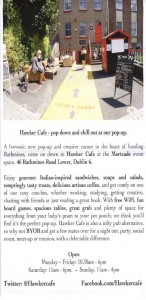 Oh … and you can bring your dog …