I'm kind of breaking my own rules here. The pie that I ate in The Pie Maker cost more than a fiver but, given that the four that I bought to take away cost a fiver each and that I thoroughly enjoyed my time there chatting to the infectiously enthusiastic Sonja and enjoying the decor and surroundings, I'm going to include it here anyway.
I had to do a little work in Galway today. It was a pleasure to drive across the country this morning: cold, crisp weather, beautifully coloured sky, good music in the car and very little traffic until I reached the Lough Atalia Road, made famous by AA Roadwatch.
Yesterday, I Yelped (well, 'Googled' is now a word, so …) 'cheap food near Galway' and the number one result was The Pie Maker. I was astonished to read the reviews: lyrical waxing doesn't come close. So, I noted the address (10 Cross Street Upper) and planned to eat there today.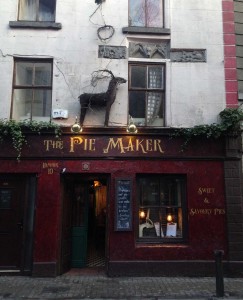 If you look at the photos on Yelp, you'll see that the pies were priced at a fiver when those pics were taken. The pricing structure has changed. Sweet pies are still a fiver but savoury ones now come with a salad or mash and mushy peas and cost a tenner. The take-away pies are a fiver and, as I write this, there are four in the oven, warming gently.
The Pie Maker is small but gorgeous. There's seating for about 15 people but they'd be squeezed in tight. The predominant colour is a rich dark green.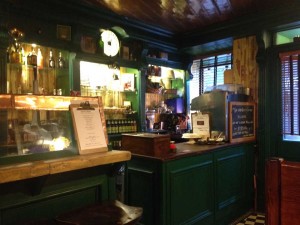 Some hats hang from the beautiful copper ceiling and on one wall are pasted probably about 50 or more rulers. It looked intriguing and felt comfortable and welcoming.
The warmest part of the welcome was Sonja. Sonja is Swiss and she's been in Ireland for a year or so, being creative artistically and musically, and working part time in The Pie Maker. She was infectiously enthusiastic about Ireland, Galway, The Pie Maker and the pies, not necessarily in that order.
My pie (I had ordered a Spinach and Feta one) was served, pleasantly presented in a Pie Maker dish, with a well-dressed side salad and a small dollop of mashed potato.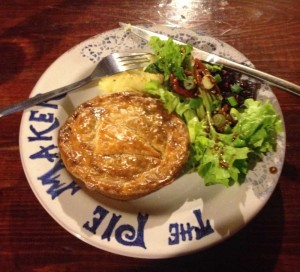 As you can see, the pie was a lovely golden colour, nicely glazed. The pastry (made with spelt) was crisp and the filling was a glorious mixture of smooth spinach and sharp feta, nicely seasoned. Very tasty. The spud was buttery and smooth, the way I like it. I had an elderflower drink to accompany it.
The other choices are …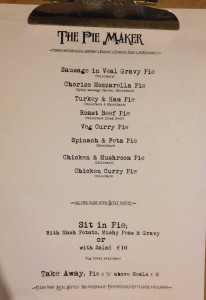 (Clicking to embiggen will make it all stunningly clear. My take-away pies were the Chorizo and Mozzarella, the Chicken and Mushroom, the Beef and the Sausage in Veal Gravy: all judged delicious by spouse, big lad, younger lad and me.)
There's not much more to add really. If you're in Galway and you're peckish, give it a go and see what you think. I liked it and I would go back in a flash.
In the car, I was reminded why I loved Lene Lovich in the early 1980s. This is one of the reasons: