2011! Good grief. That was when I last visited Honest to Goodness. Then it was in the George's Street Arcade where a load of other things have been since, none as stunningly successful as H to G.
It's now in Dame Court, very close (too close: see below) to the Stag's Head.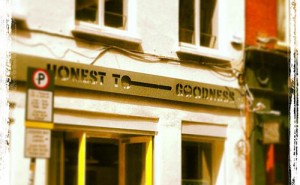 It's bigger. It's brighter. And to be honest, it's still excellent value.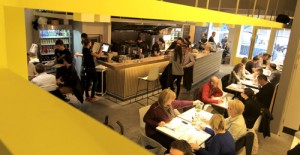 You may remember Tim. You know, ex-hyperactive adolescent, now retired, lives in Bangkok. No? Well, here.
He's over here for a holiday and a bit of relief from the relentless sloth of retirement. He's good company and deserving of my munificence. A fiver's worth of it anyway.
We met in H to G at 12.30. The place was already humming, with most tables occupied and a queue forming for take-aways. Attentive staff members poured water, told us about the specials (hot pot, crayfish salad, something else, and the fiver special: lamb kofte burrito) and returned at frequent intervals to see if we wanted to order. They weren't rushing us, you understand, but it is a bit of an in-and-out sort of place, with a pretty rapid turnover of customers, so they were facilitating that … I suppose.
Apart from the specials, the menu is salad and sandwich based, with a selection of lurid juices on offer to accompany your food. Here's a pic of the lunch menu (click x 1 = bigger, click x 2 = massive) …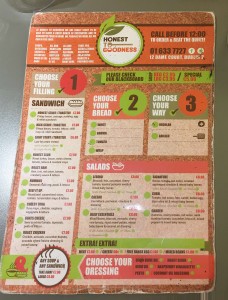 … on which one writes with a water-based marker to convey one's choice.
Looking back at the 2011 posting, I see that the speed of service was a bit of an issue in other people's reviews back then. If it ever was really an issue, it's not now. There was plenty of staff both behind and in front of the counter, buzzing around furiously, and productively.
We ordered our lamb kofte burritos and barely had time to draw breath before they arrived …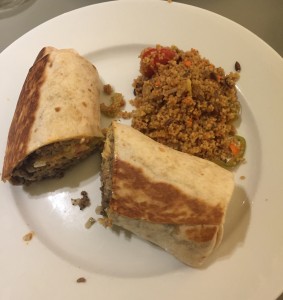 My dining companion reacted variously …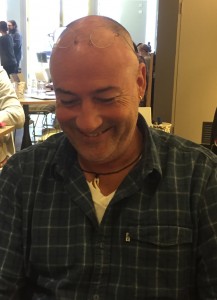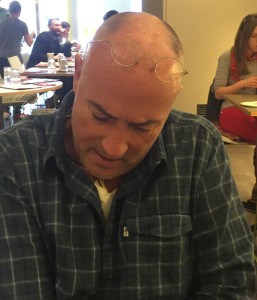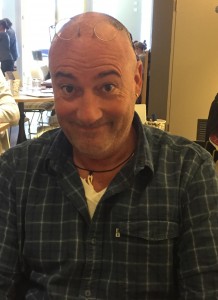 Don't ask me why they call them lamb kofte burritos. Although, what else might you call them? Essentially they were tortilla wraps, inside which was a generous quantity of spiced minced lamb, with a pinky mayonnaise type sauce, and a minty something in the background. They were served with a small heap of couscous.
OK. So we were chatting and I really wasn't paying that much attention to what I was shovelling into my mouth. I tell you what though. It was tasty. And it was filling. And although kofte usually come formed into some sort of round or cylindrical shape, who cares, as long as it hits the spot. And who ever heard of a kofte burrito anyway? Job done. The spot was hit.
I like Honest to Goodness. It's one of a reducing number of places that has kept a fiver option on its menu. The portions were decent and the food was good and I recommend you give it a try. Dame Court.
Post-lunch, the proximity of the Stag's Head proved difficult to resist, so we spent the rest of the afternoon sculling back these lads …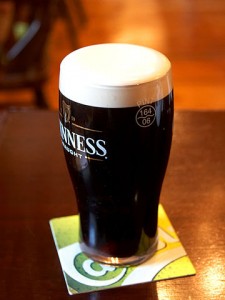 Good times.