Soooo … every so often my pal Richard, the older lad Tom and I go to Britain to watch some cricket. It's customarily an England v Australia Ashes Test match, or a few days of it, anyway. It's difficult to explain the allure but cricket played well contains just the right mix of aggression, psychology, skill, elegance, excitement and serenity to make watching it for 6 hours a day a very worthwhile and absorbing experience.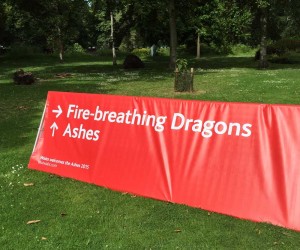 This year, the first test was in Cardiff. It was last week, in fact. Our tickets were for Thursday and Friday but I travelled on Wednesday to avail of reasonable fares, and found myself exploring Cardiff city centre and eventually feeling peckish. The real discovery for me in Cardiff was the existence of arcades (and a vibrant market) which have become home to a refreshing array of independent shops, cafes and parlours. (The Claire's and Mangos and all the other international chains have been thankfully corralled into one commercial mausoleum-like structure. The main streets contain a mix of shuttered premises, bars, restaurants and banks and, late at night especially at the weekend, the centre metamorphoses into a drink-fuelled dystopian nightmare. That's a little over the top: I just liked the phrase. It does get a little wild but, underneath it all, it's a pretty friendly city with some lovely sights.)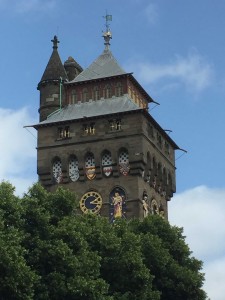 I was just about to give in to my hunger and head to a burger joint when I spotted Sophie's Creperie in the High Street Arcade.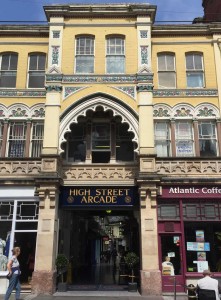 What drew my attention was this …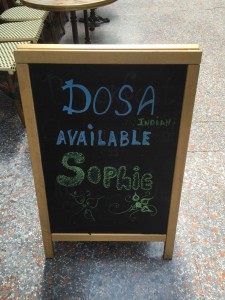 … and I thought to myself: that's exactly what I want right now.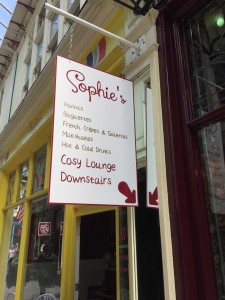 Sophie's is a bright, spacious cafe …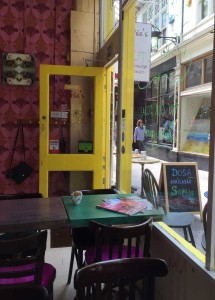 … and I was welcomed warmly by the charming and friendly Michael …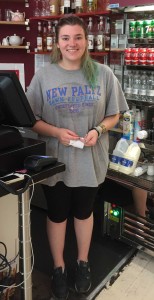 … who explained what came with the dosa. I ordered one, took my seat, was presented with an interesting table marker …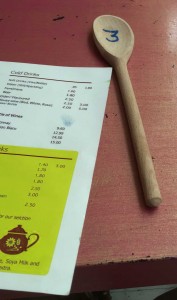 … and waited. (I should come clean at this stage that, although the dosa was going to cost me £3, I also ordered a smoothie which was going to push the cost of my visit a little over the fiver in local currency. Forgive me!)
In fact, my smoothie came first. It was the second one on this list …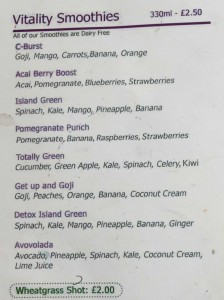 … and was cold, refreshing, summery and delicious.
Michael and I chatted, about drama amongst other things. Turns out she's a fan of Wicked the musical, so we talked about the costumes, the spectacle, the incredible impact of the special effects and, of course, the songs.
My dosa arrived and I tucked in. Still chatting, I completely forgot about photographing the dosa until I'd almost finished it. Here's the last couple of mouthfuls …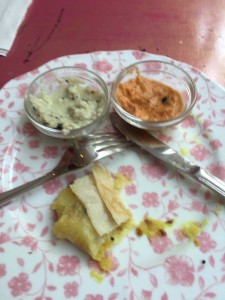 I've written about Masala Dosas before, here, so I won't repeat myself. This one had a beautifully spicy potato filling, a coconut chutney and a thickish tomato-based sauce (not a sambar, though). It was tasty, filling and satisfying. And did the job it was designed to do. And it so happened that I was the first person ever to have one in Sophie's.
The other savoury items on offer at Sophie's are …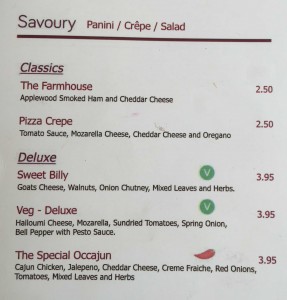 and they also offer a range of sweet crepes.
I spent a very pleasant 30 minutes or so in Sophie's. It wasn't busy but it was about 2.45pm when I got there anyway so it was well after any lunchtime business. I read some online reviews of Sophie's and they're consistently positive. So, while I'm not suggesting that you hop on a plane especially, I am saying that if you happen to find yourself in Cardiff when it seems as if it's, as Pooh would say, time for a little something, then Sophie's would be a good choice.
---
Australia lost, sadly.