I have Garwin Liu to thank again for his tireless exploration of eating places north of the Liffey.
This time it was Amiens Street, just under the bridge and opposite Sheriff Street where I spent two pre-Christmases a long time ago pretending to be a postal worker.
The venue was Pho Saigon,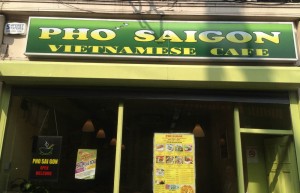 and Tim B …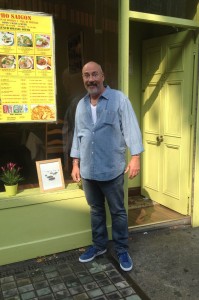 … came along to sample the heady delights of eatingforafiver.
I've known Tim since he was a mischievous pre-adolescent and it's safe to say that my pre- and early teen years would not have been so adrenaline filled had I not lived around the corner from him in Stepaside. From amateur demolition works on the Ballyogan Road, to gaining 'free entry' into Pat Quinn's Club, to sending a string of taxis to a nearby housing estate, and phoning people with unusual names … well, I could go on but I won't.
I shall also forever associate Tim with music, both for his meticulously kept lists of Top 20 hits, books of lyrics and for the rather innocent discos held in his house at which I always ended up with the same girl (I'm not complaining, you understand: she was gorgeous) dancing to Bridge Over Troubled Water but not quite managing to say anything to her.
It was Tim's meticulous organisational ability that no doubt contributed to him becoming a rather significant figure in market research in the Far East for some time. Anyway, retired (!) and partnered up, he's kind of at a loose end now (normally residing in Thailand) and our lunching was made possible by a short visit to Ireland to see his ma and her Labradors.
Pho Saigon opened about 3 months ago according to the nice man behind the counter (who I guessed by his enthusiasm is the owner).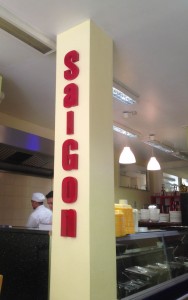 It opens from 12 noon to about 10pm and is spotlessly clean. It wasn't full (a bit of an understatement) but those who were eating were doing so with some relish.
There's not a huge choice for a fiver. Well, actually, we were limited to the Banh Mi (the anatomy of which you'll remember was described here) and a drink = the 'Lunch Special Offer' = €5.
I might need to relax the strict fiver thing soon. For not too much over a fiver in Pho Saigon, there's a pretty good choice, as you'll see if you click on the menu …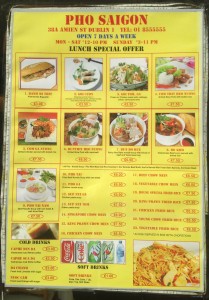 The Banh Mi (no idea what the plural is) arrived soon. Actually, we were deep in chat so I haven't a clue how long they took. Quick enough anyway.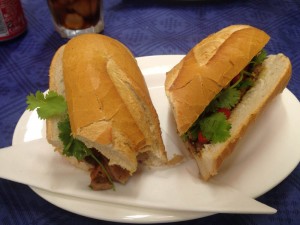 The first thing we noticed was that the rolls were fresh. Pleasing. Inside were slices of pork, chilli, coriander leaves and grated carrot.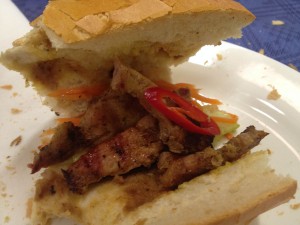 They hadn't gone heavy on the pork. A little more (of everything) would have been better, but for a fiver, including a can and considering these were made on the spot, they were OK value. Tasty too. You never know with chillis whether slices of raw ones are going to blow your head off. These ones didn't and I suppose there's quite a lot of bread in a Banh Mi to dilute the capsaicin. Lots of fresh coriander too, which I love.
Oh yeah, here's Tim stuffing his face: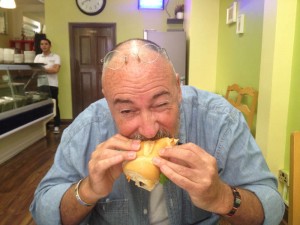 So … clean, new, enthusiastic owner, pretty good value (better if you spend over a fiver), freshly made Banh Mi. If you're in the area (just turn left at the bottom on Talbot Street) this is a good and more healthy alternative to the pizza and chips offerings around the corner.
Tim paid. Thanks Tim. I lost the receipt.
We repaired thereafter to The Gin Palace on Middle Abbey Street and spent the rest of the afternoon in the company of pints. (Just in case there are any people associated with my work reading this, I did work two evenings to make up for it!).