That man Garwin Liu has a good nose for cheap, filling food. This is the guy who recommended Star Pizza and the Oriental Emporium, where I've had two great feeds. He told me about the Lagoona Bar, just opposite the National College of Ireland on Mayor Street in the IFSC area ages ago. I was a little reluctant to go because the last time I was in that area I got stuck in an almighty traffic jam that lasted for ever.
Anyway, Garwin was in touch again recently through the eatforafiver Facebook page and mentioned Lagoona again. Guilt and curiosity combined today with a little flexibility in the middle of the day and the availability of a feeding partner: the young lad, on interminable school holidays, and perpetually peckish.
I think part of the problem the last time I was in Mayor Street was that the Luas tracks were being laid and the place was a mess. It's all settled down now and today the area, even out of term time, was hopping. I have a pal who used to work in NCI some years ago when it first moved from Ranelagh. Back then, NCI was a bit lonely among cranes, not yet occupied office blocks, remnants of old dockland buildings and a lot of hoardings. Then, it was difficult enough to find somewhere to eat. Now you can't move for bagel bars, pubs, pizza parlours, sandwich shops and pricy pasta purveyors.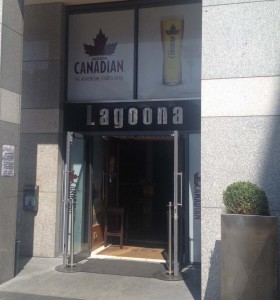 The Lagoona is a big place, situated in a corner of Custom House Square which is home to several other bars and restaurants.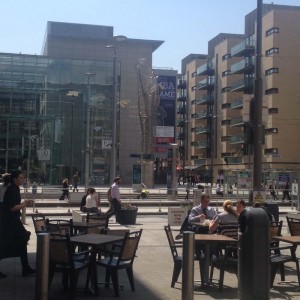 It was a pleasant day and most other establishments had several tables and chairs outside to facilitate al fresco dining. The Lagoona had two quite high tables, one of which we nabbed when we'd got our food.
Garwin told me that Wednesday's special was roast meat in a roll with chips. And he was right. The choice of meats was beef or pork. The young lad opted for beef and I went for the pork. You can opt for different breads if you want and also have a few salad items to accompany the meat: lettuce and mayo for the young lad and coleslaw for me.
The portions of roast meat were generous and the meat was nicely cooked, moist and tasty.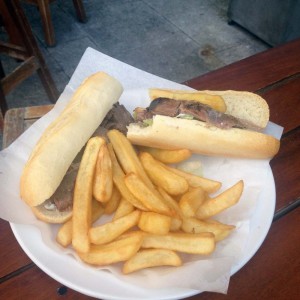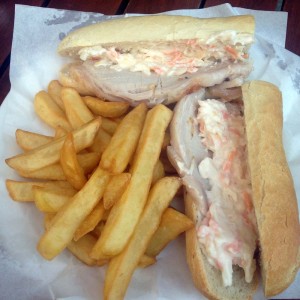 The rolls were pretty standard but fresh. The chips were a little hard, probably from being kept warm for a little bit too long. Still, hey, this was a pretty decent feed for a fiver. I think in the amount of meat stakes, the young lad was the winner.
There's a carvery special each day (click to big up) …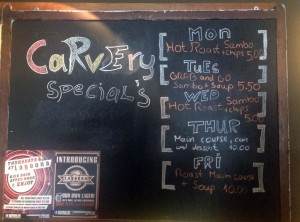 … and there's lots of other food on offer too …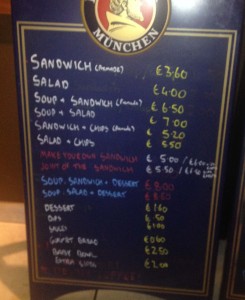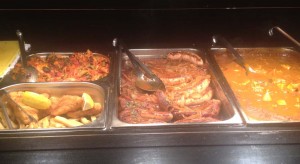 … including this whopper sausage.
We took a little wander around after our lunch to see what else was on offer. The odd thing was that the Lagoona seemed to be the least busy place in the area. Maybe it's because it's principally a bar. Maybe it's because it's a bit dark inside. Maybe it has too few tables outside and maybe they are the wrong sort of tables. They're high, man-type tables. Maybe it's mainly a student place and it's not term time. I don't really know.
Anyway, thumbs up for Lagoona. Meat, bread, chips. Cheap and filling. Nice one.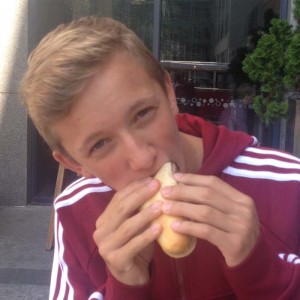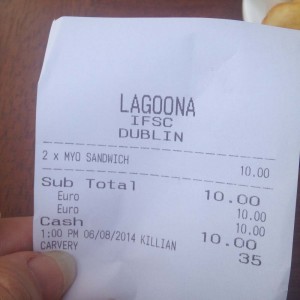 Lagoona is on Facebook and Twitter, btw (thanks @MsFrugalone for the latter link).