With the wind whistling outside, punctuated by violent showers, it was an obvious choice. Lunch al fresco.
To be fair to Fish Shop (which is at the back of the Blackrock Market but more easily accessed from George's Avenue), it's in a reasonably sheltered spot. And while not being in a building as such, there is a wooden structure with benches, a roof and (helpfully) some blankets in which you can eat your fish in comfort.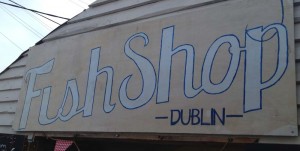 I've mentioned Fish Shop before when, following a pub lunch with the spouse, I was seduced by a sneaky portion of slip sole (it's at the end of this entry here). I didn't really give it the space it deserved at that time so it was on my list of places to re-visit so that I could give it some more prominence.
Fish Shop is run by Peter and Jumoke (here they are in a pic from their Facebook Page).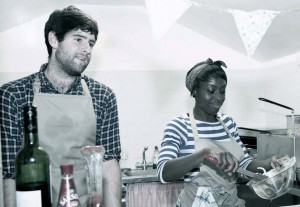 It operates from what can only be called a shed. But it's a shed of remarkable creativity and admirable simplicity out of which emerges food of superb quality.
Unlike your average chipper where solid slabs of battered fish lie palely waiting their oily fate, Fish Shop's fish is taken gently from a fridge, lovingly dipped in light beer batter most of which is then removed, and carefully lowered into oil. The cooking process is timed to perfection, the batter emerging golden and crisp, its thin crust encasing moist tender flesh.
The choices today (and most days they are advertised on Fish Shop's Twitter feed) were White Sole, Hake and Pollock. No mussels today, but they're usually available, served with ajillo, a sauce made principally from olive oil, garlic and chilli.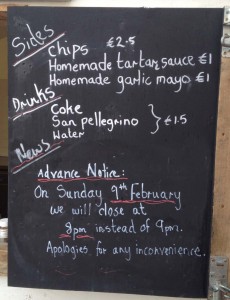 The older lad was with me today, his muscles feeling 'a bit tight from the gym'. Poor fella. Tom likes his food and he does like a bit of fish.
We both chose the white sole because it cost a fiver. And because Peter suggested it would be a good choice. We did cheat a bit by ordering a couple of tubs of tartare sauce at a Euro each. My excuse is that I've had it before and that there was no point in trying to resist temptation. The sauce is hand made (in fact Peter was making up another batch while we were there) and is heavenly.
Our fish came with a slice of lemon and was served in a recyclable container.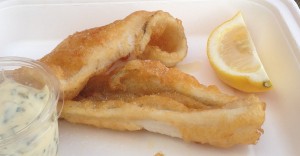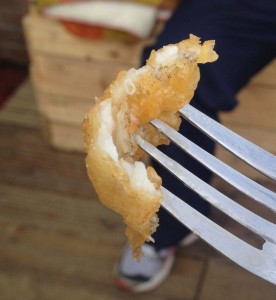 As usual, my photos do the food no justice. Sorry. But actually, I don't think any photos would do this justice because the experience here was more about the eating than the looking. The thin light crispy batter giving way to the softest, freshest tasting white fish. When paired with the velvet textured tartare sauce, well … it was … erm … pretty exquisite.
And great value. Fish can be expensive to buy. I don't know how Fish Shop can do these portions of fresh succulent fish for the price they do. But long may they do it.
Our joint verdict today was that this was a delicious lunch; well prepared and excellent value. Peter was more than happy to chat to us and answer all our probably tedious questions about where he gets his fish (Howth, from Doran's), what white sole is (it's a flat fish (obvs) and I think he said it was also called 'witch') and how Fish Shop is doing (OK and they have plans to expand the seating area).
If you live within an ass's roar of Blackrock, and even if you don't, try it and see what you think. It's open from Tuesday to Sunday, 12 – 9pm and they have an arrangement with the wine bar in the market at weekends whereby you can order some fish to accompany your wine.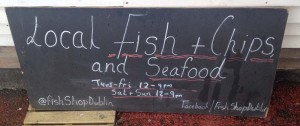 Blackrock is also the home of the Blackrock Cellar, an enterprising, friendly and well-stocked off licence with an enviable selection of craft beers from Ireland and around the world (the spouse bought me a box full for my birthday) and lots of gin. They do frequent tastings, stock cheese from Sheridan's and sell other interesting foodstuffs on occasion. If you're looking for some alcohol in particular, they'll order it in. It's my new favourite booze shop. I bought the older lad a couple of bottles of stout. Just because.