Guest post. The older lad (Tom) waxes eloquent about his visit to the seaside in the company of his Ma (the spouse). Read on.
Right, enough sitting on the sidelines and eating the spoils, time to get involved at the business end of this crazy adventure.
Like a lazy fisherman, I'd been sitting in my boat waiting for an opportunity, and one just jumped out of the water and landed in my lap. The Mammy is currently working out in Blackrock and she suggested a place near her office that does lunch for a fiver. So, on the condition that I join her for lunch and do the write-up, the MilkyBars were on her.
The place in question is The Dark Horse, located on Carysfort Avenue, a short walk from the Frascati and Blackrock shopping centres. I parked in the Frascati car park (€1/hour) and wandered over.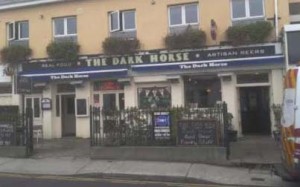 The place is, I'm guessing, a refit of an older pub, with a smaller 'bar' side and a more spacious 'lounge' side, in which the food is served. This is where we chose to sit.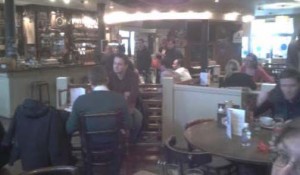 As you can see, the place was busy enough at lunchtime. We were handed our menus and offered drinks. In keeping with eatforafiver tradition, we ordered a glass of tap water each and cast our eyes over the menu. The Dark Horse offers a full menu of regular pub food but this is the part we were interested in:
I was eyeing up the pulled pork wrap, but the Mammy said she was going to have that so, in the interest of variety, I opted for the chicken bap. We were offered the optional chips or soup, but considering how some recent posts have played fast and loose with the rules, we decided against them.
The food took a while to arrive, so we took in the décor on the walls and tables. The walls are covered in posters advertising lesser known and craft beers. Their beer menu reads like this: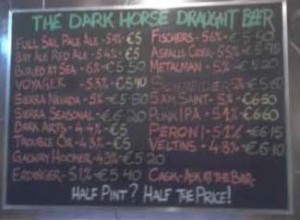 and the wine list has this on it: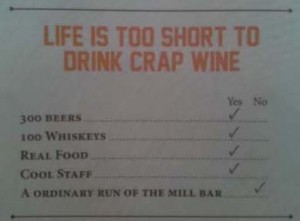 More of that later. The food arrived. The Mammy's pulled pork wrap: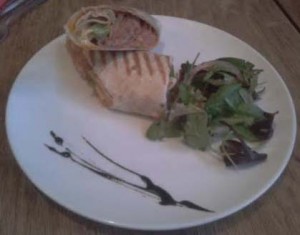 And my roast chicken bap: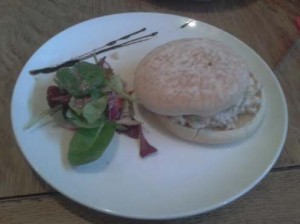 As you can see, both came with a small side salad of mixed leaves, red onion and what I suspect were peppers that came from a jar. It came with a sweet and sticky balsamic dressing. It was fine and complemented the food nicely. Now down to business. The Mammy comfortably won out on this occasion. The pork in her wrap was tender and seasoned (as opposed to smothered) with a BBQ sauce that was mild and tangy. The wrap also contained the right ratio of coleslaw to meat ie. More meat than slaw, but enough slaw so as to taste it.
My bap was grand. It was about what you'd expect. A floured bap,with shredded chicken, garlic mayo and spring onion. There was enough of it, it was tasty and it filled me. That is all.
We finished eating and paid. Here's the proof of €5eachness: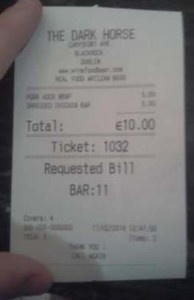 The Mammy headed back to work (along with pretty much everyone else in the place) and I was left to do a little research.
I got chatting to Alan behind the bar who was keen to tell me about the pub and its hopes and dreams. The Dark Horse is a member of a collection of pubs (of which there are nine), in Galway and Dublin. The pubs are operated by Galway Bay Breweries. Their aim is to turn people onto enjoyment of moderate amounts of craft beers, in place of binge drinking mass produced lagers and stouts. Alan told me that most of their pubs have pool tables and board games instead of TVs so as to encourage people to interact with one another.
Being in rugby-mad Blackrock, The Dark Horse is an exception. They also serve Guinness and Heineken in order to draw in custom from those who prefer more mainstream tipples. The rest of the taps are filled with craft beers from around the world and those produced by the Galway Bay brewers themselves. Alan showed me a bottle of award winning 'Two Hundred Fathoms' stout (see pic) of which he had the only remaining case in Dublin. By his account it had been flying off the shelves. As you can see from the label, it's 10% ABV. 10%!!! I can see why they're trying to move people away from having a feed of pints when the beers are that strong!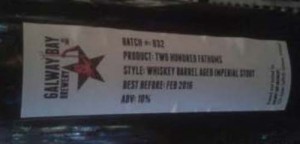 Anyway, Alan preaches the word of craft beers well, and he seemed fairly passionate about it, which certainly helps get the message across. I'd consider going back for the pulled pork wrap and a bottle of stout, as long as I didn't have to operate any heavy machinery afterwards!