My fault. I was too late. It must have been about a quarter to two by the time I got to Oxmantown …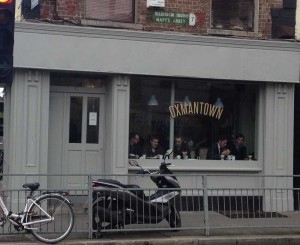 … a (principally) lunch place on Mary's Abbey with a glowing reputation.
This is yesterday's menu board, taken from their Facebook page …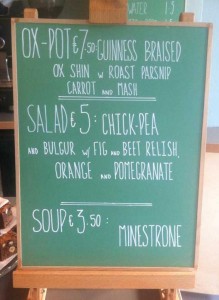 … and I was hoping to grab a salad but they'd sold the last one a few minutes before I got there. So, I'll have to go back another time.
No great penance to be honest. It's a lovely place and the sandwich I had in place of the saladforafiver was a beautiful creation. It was pulled pork with gribiche and rocket in a Waterford blaa. Gribiche? I didn't know that either but, good grief, it's gorgeous and they make it in-house. Blaa has been in the news relatively recently, so you should know what it is. No? Here (explained better than I could). The pulled pork is advertised as having been roasted for 12 hours, and I can believe it. Juicy, tender. €5.50. A bit over the fiver. But I don't begrudge them the extra 50c.
As I was getting ready to leave, I spotted Aoife Mc (who I've mentioned before) and who does all sorts of interesting food things: I Can Has Cook blog, the award-winning Forkful, and lots more besides. Aoife created one of my favourite recipes: Roasted Carrot and Pomegranate Couscous, super on its own or a truly delicious accompaniment to something like the Lamb Shawarma recipe in Jerusalem.
Right so. That's it.
Saw this at Ormond Place, off Arran Street East. Nice.