Gabhan O'Tighearnaigh (athlete, debater, school student, decent bloke) writes:
Unlike all of the other posts on eatforafiver, a different person will be reviewing a place this week.
As a student, I felt it was important to avail of the opportunities I had and in fact go to a place that only students could eat in for a fiver.
Yum Thai on Duke Street was the place I chose. Any time I've passed this place before it was packed and, although you can sit down, the space is quite cramped and it is mainly seen as a place to get food to eat on the go. Fortunately, when I was there, it wasn't too crowded so there was no trouble getting a seat.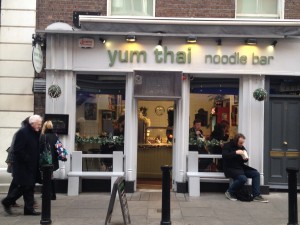 The food is laid out in a buffet style and all looked very appetising. One thing which particularly intrigued me about the place was that any dish available was for a fiver (if you're a student) so I didn't feel the urge to venture out of the price range. There were a good few options on the menu with a choice of rice or noodles with what you chose.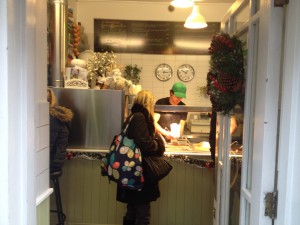 To be honest, I just asked for what appealed to be the most from looking at it as I could clearly see what the contents were. It was called (on the menu) Peaw Wan (I think they mean Preaw Wan: they left out an 'r'), and it was a sweet and sour dish with chicken and noodles. You get a choice of a plastic fork or chopsticks to eat it with. The picture does the food no justice because you really do get a humongous serving.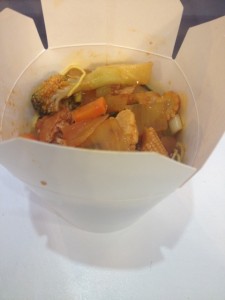 I can see why this place is the canteen for the hoards of Trinity students everyday. There was a huge range of flavours in the carton (no plates are used in the restaurant). They crammed as much food as possible into it which I was happy about because I was starving. The price bears no reflection on the quantity of the food.
Another bonus was that you get a free piece of fruit with the meal with can never be any harm.
I would conclude that, although this is the only place I've eaten in for a fiver, it could become a benchmark for the standard of food that can be served for a fiver. I do hope more open up around the place. There is another one on Baggot Street.