My knowledge of the Chinese language (or indeed any of the languages spoken in Asia) is, sadly, poor. When I say poor, I mean non-existent. On most days, this lack doesn't matter much. I get by. Today, however, it was a bit of an issue.
It's my impression that several of the restaurants on Parnell Street have two menus: one English language menu with the standard 'Chinese Restaurant' fare, catering for western tastes and the other, often in Chinese script, with, I'm kind of assuming, the more authentic (and more interesting) regional offerings.
If you happen to pop in to one when business is slow, you can maybe go through the various options in some detail to get an idea of what's in offer. On the other hand, when you go in at lunch time and there's a queue, and few staff, and you're only going to spend a fiver, you kind of feel that it wouldn't be fair to either the staff or the other customers to take up everybody's time asking too many questions.
So, you tend to either drift towards the familiar or, as happened today (where there wasn't actually a menu at all), you are respectfully directed towards the westernised dishes.
I was in Parnell Street with the older lad today, hoping to try out the Dan Dan Noodles in Sichuan (sic) House, as suggested in a Facebook message by Garwin Liu, who has a keen eye for the fiver deals in various parts of the city. Sichuan House has since closed, we discovered, so undeterred, we wandered along Parnell Street in the rain looking for other options.
Wok Station is at the junction with North Cumberland Street.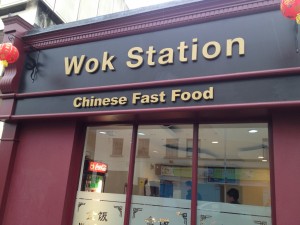 There are no menus or prices on display outside so we went in speculatively.
It's a bright, clean and quite sizeable space, with seats for about 24 or more at a guess. A counter with pre-prepared food takes up one wall. There must have been about 18 dishes on display, 8 or so of which were familiar looking: variations on a theme with pork, chicken, beef, tofu and (unusually) lamb. These were the ones we were directed towards. The ones on the left included chicken feet, fish, various types of vegetables, duck eggs, pancakes and, I think, seaweed. There just wasn't enough common language or time really to explore all the options especially, as I said above, if all we were about to spend was a fiver each and as a small queue was beginning to form behind us.
Probably a little wimpily, we ordered from the familiar dishes. Food to eat on the premises and to take away costs the same. For your fiver, you get plain rice and two dishes, or two portions of the same dish. If you opt for fried rice, the meal costs €6. With noodles, it's €6.50, I think.
The older lad chose spicy chicken in batter and a lamb dish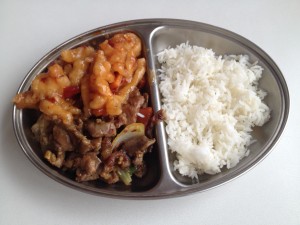 while I chose pork and tofu, and the same spicy lamb.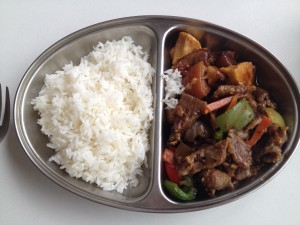 Good size portions. Certainly enough for both of us. The food wasn't that hot temperature-wise so you wouldn't really want to linger over your lunch. It was tasty though. Both of us enjoyed the lamb best. It was spicy, with peppers and a discernible taste of cumin seeds. I enjoyed my pork and tofu dish too. The pork was tender and the sauce was OK. The least favoured dish was the chicken which didn't really taste of much at all.
The older lad. Looking pleased.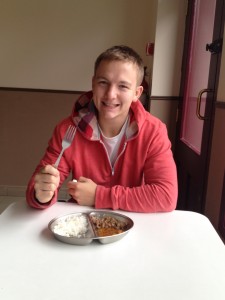 As we were finishing up, a bunch of students from DIT on Mountjoy Square came in. Some of them obviously regulars, they were greeted warmly. It's a regular Friday haunt for them, one told us. Fair enough.
I'd be dead keen, outside the eatforafiver restrictions, to explore fully what the different restaurants on Parnell Street have to offer in terms of authentic food from different parts of China, Korea and other countries.