The real Ephesus seems to have been a pretty significant place. Inhabited from about 6000 BCE, it developed from the Bronze age onwards, and throughout history it has been a seat of learning, political intrigue, evangelism and architecture. It's now a tourist hot spot.
The Capel Street one appears to be suffering some sort of an identity, or at least branding, crisis. The last time I saw it, it was VERY definitely called Ephesus, in big red letters. Now it's called Ephesus in small white ones, and the 'Capel Kebab and Pizza House' in big white ones.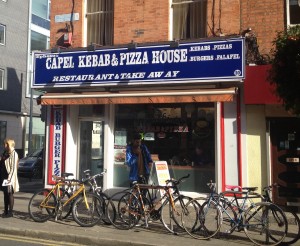 Whatever. It's been on my mental list of eatforafiver places to visit for ages and so it got done today.
Most things on the menu are a fiver or just a little bit more, as you can see (as ever, click to embiggen) …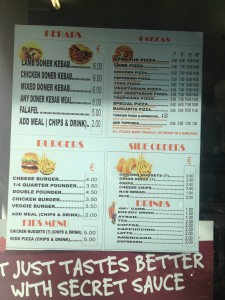 And there's this …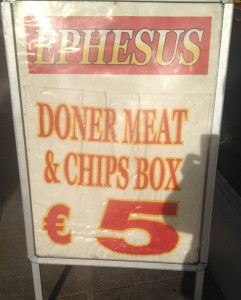 The item that intrigued me most was the Turkish Pizza (Lahmacun) just because I'd never heard of it before. It wasn't available unfortunately. The main man behind the counter (who was most welcoming and friendly) said that it may be available sometime after Christmas. I suspect it's not a big seller. The other item that caught my eye was the Ayran which is a Turkish yoghurt drink with salt, a little like the Indian lassi. They didn't have any of that either. No matter.
I chose the Falafel, in the Kebab section. I was told it included some salads and flat bread and was invited to take a seat. The warming process complete, I was asked to choose which salads I wanted (I took the lot) and was handed my plate of food.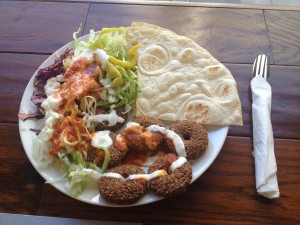 There it is. That's a pretty sizeable feed for a fiver. Six warm falafels, shredded lettuce, non-mayonnaise slaw, shredded red cabbage, sliced tomatoes, sliced onion, a couple of pickled chillies, and some garlic and chilli sauce. With the promised flatbread.
The salad items were crisp and fresh and the flatbread was warm and soft. I've eaten quite a few falafels over the last few years but I wouldn't consider myself to be an expert on them. These ones were OK. They were crispy on the outside and had a pleasant consistency inside. Yer man in Dublin Falafel Hunt rated the falafels in Ephesus pretty highly and he eats them all the time, so I'm not going to be at all judgemental about them.  For a fiver, this was a decent plate of food and that's what this is all about.
It seems to be a pretty popular place. I was there just after half one and there were about 10 people in it with a few more drifting in when I was there. It's bright and clean, with big windows on two sides through which you can watch the world go by. The man and woman behind the counter were kept busy. I left, full, satisfied and with a pleasant chilli tingle on my tongue. This place is a good option if you're at that end of Capel Street (it's at the junction with Upper Abbey Street), you're hungry and you only have a fiver to spend.
So …
Sad to say, one of the places I ate in not too long ago, Flavor (sic) on Camden Street has closed. I have a hunch that it never quite identified its market. Pity.
And for students: just around the corner from Capel Street, on Ormond Quay, is quite a new Brazilian place …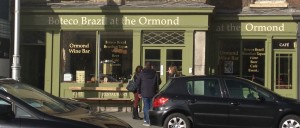 I seem to remember this used to be an art gallery. It's HUGE, has a buffet lunch offer …
… and, if you're a student (and have your student card on you), it seems as if you can stuff your face for a fiver. The buffet is downstairs and the queue for it today was massive.
Finally: question of the day. You see this woman on the right …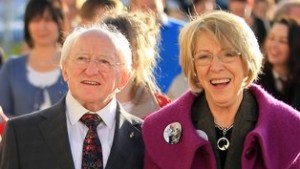 She's married to President Higgins and her name is Sabina Coyne.  Or rather, her name WAS Sabina Coyne. Since her husband became President, she's almost universally referred to as Sabina Higgins. What's that all about?