I'm STUFFED. STUFFED. For a fiver!
Garwin Liu, the guy from Facebook who told me about the Star Pizza place on Talbot Street that I did a few weeks ago, came up with the venue for today's feed. He was responding to my whinge about restaurants on Parnell Street having two menus, one usually in Chinese and he suggested that I go to the Oriental Emporium at the Luas Jervis stop on Abbey Street where I could just point. So that's what I did.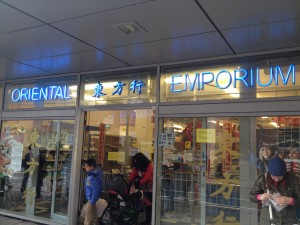 I had been in this place before, and its cousins in South Great George's Street (not sure it's still there), the one in Rathmines and, just because I was driving past it, the one in Rathcoole. All offer a phenomenal range of goods, from fish, to all sorts of vegetables, meat, tinned goods, sauces, rice, noodles, fruit, and so on. The smell of them alone is likely to get your juices running. And if you attempt (as I sometimes do) to cook something oriental but don't want to use the over-sweetened crap that comes from supermarket sachets, then a visit to one of these shops or the Asia Market on Drury Street is a must.
Anyway, as I say, I had been in here before but I didn't notice or pay attention to the fact that it had a hot food counter.
Hard to miss …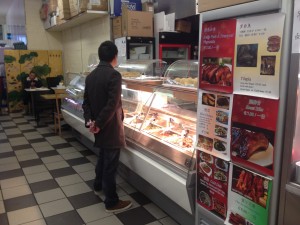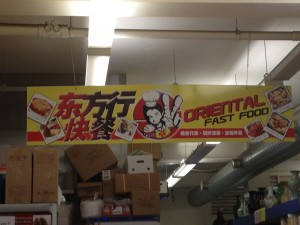 … but there you go.
Various signs indicate the different types of food on offer and slap bang in the middle of them is one saying "Hot Food €5". Unambiguous.
I asked the helpful man behind the counter what I could get for my fiver and he indicated the section of the massive selection of dishes from which I could choose three. I pointed to three ones I liked the look of and he put a generous spoonful of each into a plastic container. I said I wanted to eat in (most people I saw subsequently took their food away) and he gave me another container of rice and a pair of disposable chopsticks.
My fiver paid over, I found myself a seat. There isn't a huge seating area: 8 seats around two tables. Each table had a selection of condiments, a box of tissues and this sign …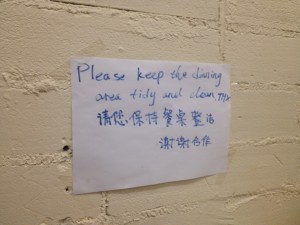 … fair enough.
My food …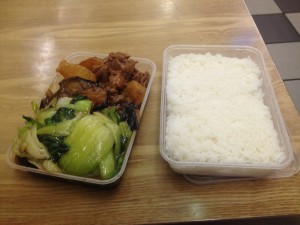 … comprised belly of beef with mooli (or daikon), aubergine with minced pork, and pak choi with ginger.
The beef was absolutely gorgeous: rich, almost like oxtail, and tender. The aubergine was soft and unctuous. And the pak choi still slightly crunchy, tempered with the taste of fresh ginger. There was lots of it. And I ate it ALL …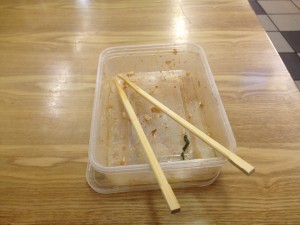 This seems to be a popular place both for grocery shopping and for buying prepared food. There is a huge selection of dishes both hot and cold so it's a place for possible culinary exploration. And it's great value. Try it. Do.
Garwin (and a bloke who calls himself Benjamin L Willard and who went to school with the big lad) also suggested another place nearby: Han Sung on Great Strand Street just opposite the National Hyperbaric Centre, the location of which I'm sure you're familiar with. If you're not, Great Strand Street runs parallel to Abbey Street, closer to the quays. This is the place …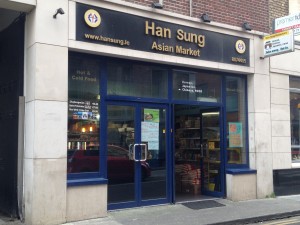 Again, it's a shop, with a food counter at the back. A lot more seats and an interesting range of Korean, Japanese and Chinese food. All from about €5.50, so just above my budget but, judging from the number of people eating there and the heaps of food being consumed, excellent value.
So, it's Hallowe'en.
Woooooooo!