I thought I was heading for Bonza Pies but it turns out it's changed its name to The Hampton's Food Co.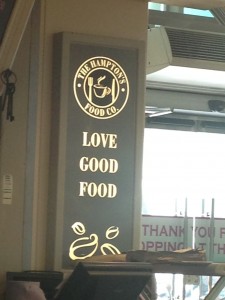 It's in the ILAC centre, beside the door that you'd go in to visit the library. The lane leading to it doesn't have any signs indicating its name but I think it's Coles Lane. If it isn't, then it's close to where Coles Lane used to be. Today, you leave Henry Street between Debenhams and something called MAC BT2.
Hampton's (as I'm going to call it from now on) is expanding. It's tucked in a corner beside the door, with a food preparation and serving area and a tiny dining area in in which they have managed to fit about six small tables and an assortment of chairs.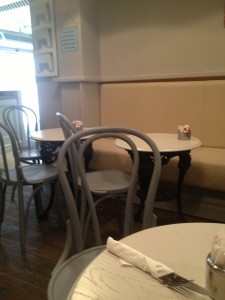 They are now constructing an additional dining area in the aisle.
I passed Bonza only once or twice previously and got the impression that it did pies only. Hamptons has a much broader menu including a variety of breakfast items, an interesting selection of salads, sandwiches with good names and 5 different types of pie.
I'm sure that's a good idea. I don't think of pies as being a part of the Irish culinary culture, such as it is. I tend to associate them with England (in particular). Veal pie, pork pies, Cornish pasties, five and twenty blackbirds and the like. The Wikipedia entry on pies refers to them as portable meals: meat in an edible wrapper, really. We had spuds, I suppose.
The pies in Hampton's are all under a fiver and I noticed that I could get a side salad with the mince meat pie for a fiver exactly. So that's what I did. The helpful man behind the counter said that he'd go for the potato salad, which turned out to be not really potato salad at all. It was in fact potatoes mixed with slices of salami and he made it hot in a machine.
I paid, took a seat and my pie and potatoes arrived soon after. The pie had been in the machine as well and was hot. Very hot.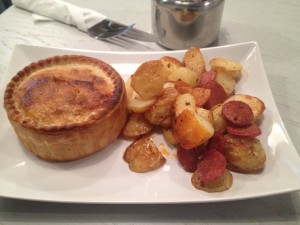 The potato and salami side dish was pretty good. Waxy spuds (which I like) and sturdy but mild tasting salami. I cut open the pie …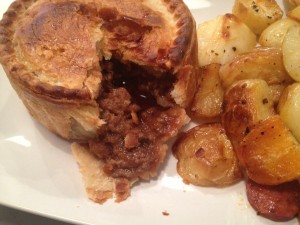 Juicy. Crisp pastry on the top and sides. Tomatoey mince. I tasted onion, stock, pepper and salt. It was a tiny bit too salty for me but I tend not to add salt to my cooking much so I'm conscious when it's there. Good, though. Tasty. With the spuds, it was a filling and substantial lunch. Good value for a fiver.
While I was there, a few other customers came in, ordering soups, salads, wraps and a variety of coffees. Service was efficient and pleasant and people looked pretty satisfied. The ILAC centre is a busy, bustling place and I was surprised how quiet and peaceful Hampton's was.
I liked it. I'd go again. Give it a try.