Yeah. I know I don't usually do soup in this blog but I'm doing one today. In any case, the Soup Stop (see their website and Facebook page) isn't just a place that does soup: it's actually a soup place that, for its size, does an astonishing range of good value soups.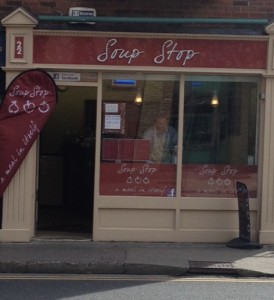 Soup Stop is on Harcourt Road, specifically that bit of Harcourt Road between the turn for Ranelagh and the turn for Rathmines. It's a stretch that has a Bagel Factory and an Abrakebabra, and used to house The Manhattan, a legendary post night club restaurant where you could get a decent bit of fried liver amongst other things. (I was never in The Manhattan because I was one of those people who was rarely let into night clubs: wrong shoes, wrong clothes, wrong hair, wrong face, earring in the wrong ear, and so on. Bitter much? Nah! Well, maybe.)
Soup Stop is tiny, but it's mainly a take-away place. It does have a counter and a stool and so fulfils some of my blog criteria.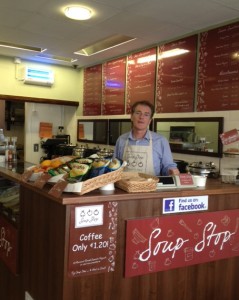 It's been open for 4 months or so, according to Darragh, Soup Stop's very welcoming and friendly owner (there he is, in the pic). It's attractive, clean and bright and a lot of thought has been put into its branding: logo, tagline, signage, menu, bowls, bags, and even Darragh's apron.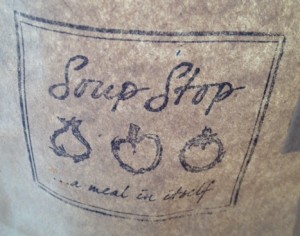 Soup is served in biodegradable cups or bowls that come in two sizes: 12oz and 16oz. For a while these cost €3.39 and €3.69 respectively. For that you get the soup, a topping, a roll and butter (or Flora), a plastic spoon and knife and a serviette. You'll find their regular selection here and if you click on the tabs, you'll find the toppings, bread choices and other offerings. There's a weekly special soup (this week it was Chorizo) and on Friday, they do a Fish Chowder.
I went for the Chowder which is a little more expensive, at €4.99 for a 12oz bowl, but also includes the topping, bread and so on. Darragh also let me taste the beef and vegetable broth which is indeed a tasty creation, with a decent stock base and none of the aftertaste that you get from cheap packet-based soups. I woud guess that the other soups on offer are pretty good quality too.
The Chowder was good: thick (and not cornflour thick), with a good but delicate fish taste, discernible vegetables and small lumps of fish. I liked it. The roll was fresh and the butter was soft (there are few things more annoying than trying to spread a rock hard pat of butter with a plastic knife: *first world problems*).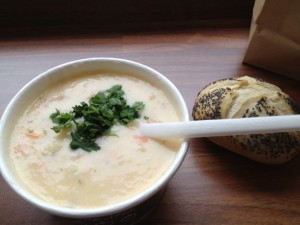 Soup Stop is in a slightly awkward place. You can't park anywhere near it so it's dependent on local offices for custom. There are plenty of those but there's also a lot of local food competition. I'd like to see it do well. Darragh is likely to augment his menu with the addition of a range of sandwiches.
If you happen to work or live in that area of town, give it a go. Darragh will give you a hearty welcome and you're sure to find a soup to suit your mood.
By the way, if you happen to be a soup fetishist, have a look at the spouse's soup blog: Minnie's Soup Kitchen. It's an enviable record of dedicated soup making (and bee-related ephemera).