I don't want to be unfair here to The Cedar Tree in St Andrew's Street, Dublin because first, it's a nice looking place (inside) and second, it's got overwhelmingly positive reviews for its food on Tripadvisor and other sites. My lunch here today, however, was disappointing.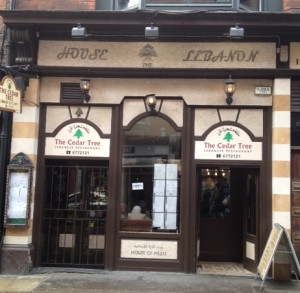 Thanks to a tip from Cici in a comment left on eatforafiver a few weeks ago, I decided to try it today at lunchtime. The lunch menu is posted outside …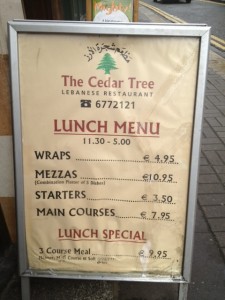 The wrap choice is Shawarma Beef, Shawarma Chicken, Falafel and Kafta. I'd had enough meat this week so I decided before I went in to have the Falafel one.
The Cedar Tree is quite big, seating about 50-60 at a guess. Muted lighting, Middle-Eastern music, these …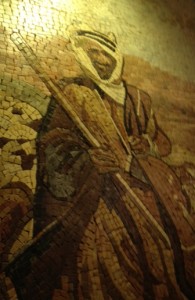 … on the walls and mosaic inlaid tables contribute to a pleasant ambience. I got there at just after 1.30pm and the place was pretty full. Interestingly (to me, anyway) there were more women wearing hijabs and niqabs than I have ever seen in a restaurant before.
I was shown to a table and handed a laminated menu. On the menu the price shown for the wraps was €5.50. I asked about this, and was assured that they were actually €4.95.
I ordered and waited. On the menu, the Falafel Wrap was described as including 'tomato, radishes, pickles, parsley and tahini sauce'. Sounded good.
It arrived.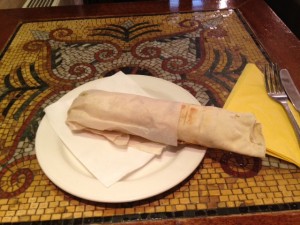 I took it out of its wrapper and broke it open to look inside.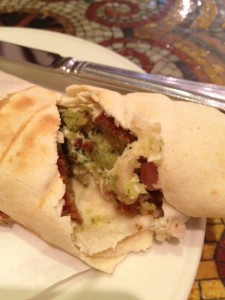 It was unusual in that the outside was crisp, as if it had been toasted after having been wrapped. This gave it a crunchy texture which was quite pleasant.
The falafel wraps I've had in the past have comprised falafels, the quite dense texture of which has been contrasted with the freshness of its accompaniments (usually vegetables of some sort) and the moist tanginess of a sauce. The overall effect has been one of reasonably balanced flavours and a variety of textures.
This wrap had neither, sad to say. It was stodgy. There's no other word for it. I came across a faint taste of tahini in the first bite but didn't taste it in the remainder of the wrap. I didn't find much tomato and the tomato I did find didn't taste of tomato. There were some pink slivers of something in it (radishes? pickles?) but they didn't really taste of much either and they had certainly lost any crunchy sharpness that they might previously have had. Near the middle, I think I saw some parsley but I didn't taste it. It was filling. But it was also stodgy. And disappointing.
But as I said at the start, I don't want to be unfair to The Cedar Tree because of this one wrap. Maybe falafel wraps aren't really their forte. The other items on the lunch menu look pretty good value and the place was pretty busy with (mainly) groups of diners all chatting and munching away. In other words, don't write it off just because of my impression of the wrap.
Just around the corner, at the junction of Trinity Street and Dame Street is the shop that feeds my fountain pen habit: The Pen Corner. If you share my pen habit (or even if you don't) have a look at the Yelp reviews of this place: here. If you're looking for more pen (and who wouldn't), take a look at this site: Pen Addict. (By the way, I can handle my pen use. I can use a biro whenever I want. I choose to use a fountain pen. Honestly.)
Lamy.
Mmmmm.