A good end to a good week. So, on Tuesday evening, I went to the theatre. Actually, my favourite theatre: the Project Arts Centre on East Essex Street. To see Focal Point*.
Just opposite the Project, I saw this place …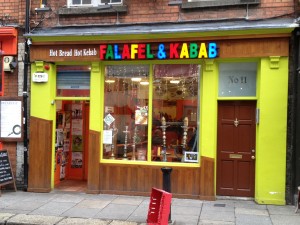 … and, on the basis of the menu posted outside, marked it down for a visit.
Falafel and Kebab (which seems to be the preferred spelling, despite the sign over the window) has been here for about eight months. It's clean and well-kept although it looks a little lived in. It has a Facebook page: here.
Inside is a split level dining area and a serving counter with a kitchen behind it. The hookahs in the window …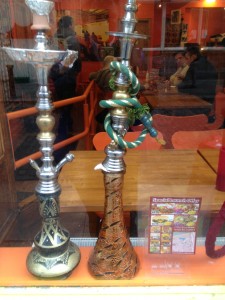 … are not just for show. They serve shisha – I saw two men sharing a pipe last Tuesday night.
It styles itself as a Mediterranean restaurant, the principal offerings being falafel, kebab (shish and doner), and chicken presented in a variety of ways. As sides/extras, it offers hummus (made on the premises), baba ganoush (however you want to spell it), stuffed vine leaves and tabbouleh (all at a very reasonable price). It also has a tandoor, in which it makes flat breads.
Here's the menu (click to embiggen) …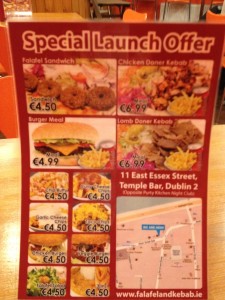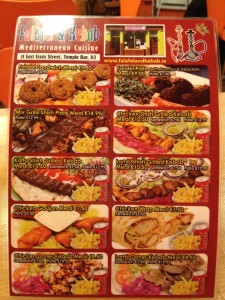 I ordered the Falafel Sandwich for €4.50 from the friendly man behind the counter, took a seat and had a look around.
The restaurant seats about 25 people and the predominant colour is that orange you can see just inside the door in the first photo. There are a few wall hangings and ornaments and, although the place is quite small, it doesn't feel at all cramped. The music was unfortunate ('Now 66' or whatever we are up to at this stage).
My food arrived, tastefully arranged and delivered to my table gracefully.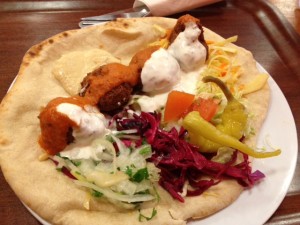 A fresh flatbread on which were four falafel, some fresh and pickled salad vegetables, chopped tomato, a pickled chilli, hummus and two sauces: garlic and chilli.
The falafel were fresh tasting, crunchy on the outside and soft inside. The hummus was good, with enough chickpea texture to indicate that it hadn't been over blitzed in a processor. The vegetables were tasty and varied. There was just the right amount of sauce, and the sauces accurately reflected their descriptions. The bread was fresh, warm and provided a good background to the meal.
For €4.50, I think this was excellent value. (For an extra €3 you can make this into a 'meal' with the addition of chips and a can. I can't think of any reason why you would want to do that.)
My lunch was filling, tasty, pretty healthy and nicely presented. The surroundings were comfortable and it's a place you could hang around in for a while. I liked it and I'll definitely go back to try some of their other offerings. I'd say give it a go.
Today, I bought ink and hemp.
* Focal Point, the play I mentioned above, is produced by TEAM Educational Theatre, with which I have an involvement. It was written by Manchán Magan, a polymath with a refreshing view of the Irish language and how it is being adopted and adapted by young people. Mikel Murfi directed it with an acute sense of dramatic pacing and the actors, Dónall Ó Héalaí and Jody O'Neill, brought it alive. Great stuff. It ends its run in the Project tonight and goes on tour to schools after half term.