I first mentioned the Balkan restaurant in the Moore Street Mall in my first proper blog entry. That was in July 2011. And I've mentioned it a few times since. So, a little guilty that I hadn't actually got around to eating in it, I decided that it would be my destination today.
The Moore Street Mall …

… is at the Parnell Street end of Moore Street.
It's an unusual place. A wide open entrance leads you to an escalator that brings you to a basement. As far as I can make out, the basement is a substantial square, with retail and food outlets located against the outer walls and in two internal prefabricated blocks. There's a curious mix of shops: two mobile phone repair units, an African hairdressers, a diet supplement place, tattoo parlour and a few Eastern European supermarkets. There's a Polish restaurant, a kebab/pizza place, a tea parlour, three Asian all-you-can-eat-for-€6.50 buffets and His Food, a tiny Balkan restaurant.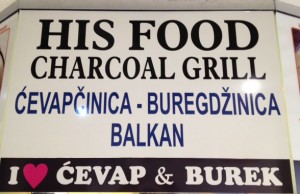 Well, it's tiny inside, with two bain marie units, a salad/cake display unit, two tables and a kitchen area. Outside, however, there are a further eight or so four-person tables (I counted them but I can't remember exactly how many I counted) so it's not that tiny.
There's an astonishing range of food on display and further options listed on a printed menu and also on a large display menu above the serving area …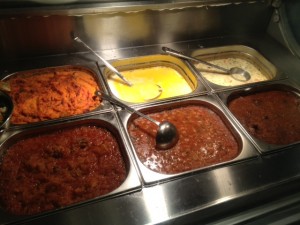 The server I spoke to took time to bring me through the dishes on offer and to explain what country each of them came from. Bosnia, Croatia and Romania featured most but there were also offerings from Italy and Greece. She also explained patiently the principal contents of the two items I had spotted for €4.50 each, on a hand-written menu stuck in the window …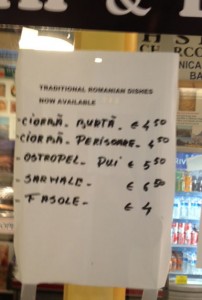 The photo is a bit blurry but the first item is Ciorbă (de) Burtă which is a Romanian tripe soup (more of which later). The second item is Ciorbă (de) Perişoare, a meatball soup. For a variety of reasons, I opted for the latter.
The soup was ladled into a large bowl by the server (I'm kicking myself that I didn't find out her name). She also gave me a huge bread roll and a small plate of vinegary salad comprising shredded cabbage, cucumber and tomato.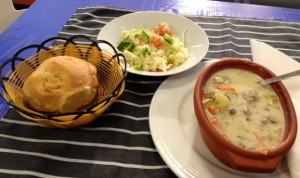 All this for €4.50! Result!
As you may recall (if you've been paying attention), my spouse keeps a soup blog (Minnie's Soup Kitchen), so I'm more familiar now with the vast range of food items that may be called 'soup'. This ciorbă was certainly more stew than soup. It consisted of eight walnut-sized beef meatballs in a rich broth that suggested chicken stock and cream, in which were various diced vegetables (onion, carrot and celery) and aromatics (garlic and herbs). The broth was a little salty but I'm probably being a bit picky to mention that. The meatballs were meaty, in a good way.
This was a very substantial and tasty meal for under a fiver. Actually, a substantial meal for any price. For the first time in my eatforafiver ventures, I couldn't finish it.
My mother liked tripe. I seem to remember that she cooked it in milk with onions. I was forced to try it on a few occasions and found it pretty unpleasant. The consistency and taste suggested rubber underpants. A few years ago, having seen this …
… I bought some and stuck it in the freezer. And threw it out a few months later.
Given that history, I was a little nervous when the woman in His Food offered me a taste of the Ciorbă de Burtă. But my goodness. It was gorgeous. It was slimy, yes, but very tender and had none of that unpleasant taste that I remember from my childhood. I'd have a bowl-full anytime.
His Food serves good value, filling, tasty Balkan food. There's lots of choice for under a tenner and it's definitely worth a visit for those who want to try out some food from a part of Europe that I suspect many of us know very little about.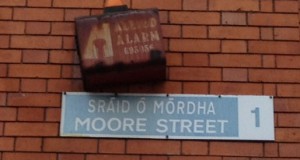 Moore Street is an extraordinary place now. The traditional vegetable stalls are still there, as is F X Buckley's butchers but now they exist side-by-side with an incredible array of African and Middle-Eastern food shops, hairdressers, phone repair outfits and restaurants selling cheap food. Delhi O'Deli (my first eatforafiver venue) is still there (although its Daily Fiver offering is now €5.50) and has been joined by an all-you-can-eat-for-€6.50 place called Buffet79.
On my way back to the car park I called in to PC World and opened eatforafiver.com on all the iPads and Macs.