My mouth is still tingling, in a good way, thanks to Jean of the superb website cheapeats.ie who recommended that I try today's eatforafiver venue.
Aobaba is on Capel Street, close to the junction with Mary Street and on the opposite side of the road to Lenehans.
Here it is …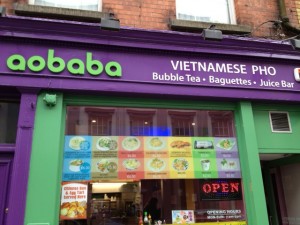 It's Vietnamese, distinctive, stunningly good value, seats about 20 and it's open from 11 to 9.
Here's the menu …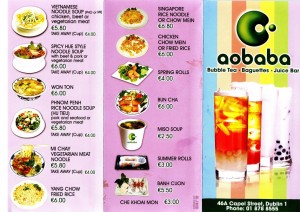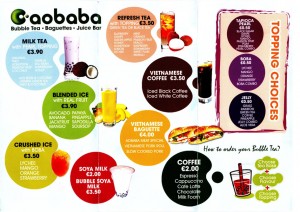 Those bowls you see on the first page of the menu are ENORMOUS, packed with goodies and evidently pretty good, judging by the sounds of satisfaction emanating from the customers in possession. They cost €6 or less.
I kind of regretted my self imposed budgetary limit. Especially as I was pretty ravenous. But I ordered the Vietnamese Baguette (or Banh Mi, to give it its real name).
Ruth, who works with me in the day job, found this picture earlier today that explains the Banh Mi better than I could:
I puzzled a little over the incongruity of food from the Southeast Asia being stuffed into a bread roll until I remembered that Vietnam used to be colonised by France and supposed that it might be the result of some consequential culinary cross-pollination. This Wikipedia article seems to bear my supposition out.
Anyway, here's my lunch: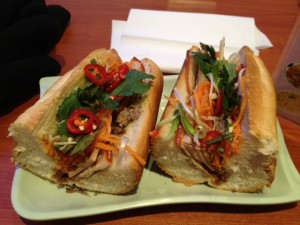 Most of the components listed in the diagram above were there, with the exception of 5 and 7. The bread was a little stale, which was a pity because the filling was gorgeous. It had bite, a fresh taste (the filling, that is) and, as you can guess from the chillies, a bit of heat. It was pleasantly satisfactory and left me with the aforementioned mouth-tingle.
€4 it cost me. And that, as they say, is what it's all about.
You can read the verdict from cheapeats.ie here.
I'm going to return to Aobaba in due course, probably with the older lad who has a grá for things from Southeast Asia, and get his verdict on some of the other items on offer.
During the week, I made this. It cost half nothing if you forget about the saffron (and you can, of course, forget about the saffron) and it was quick, easy and very tasty.