I'm indebted to AoifeMc and Nialler9 (see below*) for tweeting about their visit to this place yesterday. It's new. It's gorgeous. It's relaxing. It feeds you for a fiver.

The Fumbally is on the corner of New Street South and Fumbally Lane in Dublin 8. It's on the ground floor of a pretty anonymous modern mixed use building.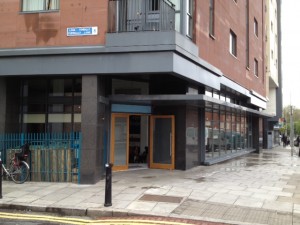 Unmatched tables and chairs are scattered around the substantial floor space. A piano stands beside a pillar. A raised area has a low table and cushions, rather than chairs, to sit on. An alcove with a picture covered wall contains easy chairs and a few settees. There's a few cookery books and newspapers scattered around. To the left there's a few boxes of vegetables (for sale, maybe – I didn't check). At the far corner is the food preparation area. On one wall is a massive menu board with just two items …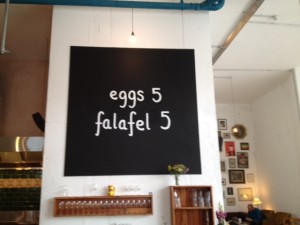 The eggs are lightly scrambled, served on a slice of toasted brioche with tomatoes. The falafel comprises a wrap, with three falafels, and a host of goodies that I'll detail for you later.
This is a place in which one could spend a lot of time. In addition to the featured menu items, it serves coffee and tea, biscuits, cakes, baklava and home made soup. The atmosphere is relaxed. It's spacious and this lunchtime it was filled with a mix of people – office workers and local residents, at a guess.
It wasn't immediately obvious where one should order one's food from but I was directed towards a friendly staff member with a notebook who explained what was on offer. I ordered the falafel, paid my fiver, grabbed a glass of water from this …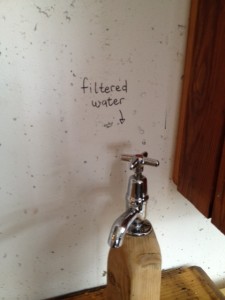 … and found a table. There's a variety of sizes of tables but most are meant to be shared.
My falafel wrap arrived soon after, itself well wrapped in paper and served on a small board.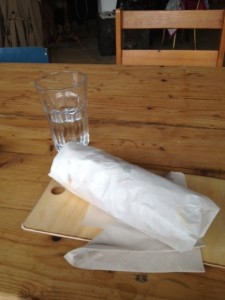 Substantial! I unwrapped it to see it in all its nakedness.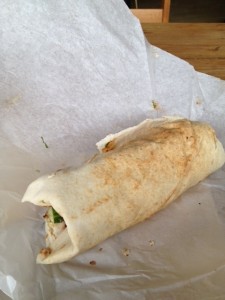 I took a bite …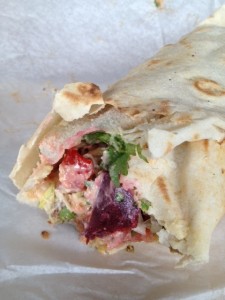 Oh yeah. THIS is what eatforafiver is all about!
Inside the warm toasted wrap nestled three falafel, some coleslaw, beetroot, lettuce, tomato, tzatziki, tahini, hummus, fresh coriander and mint, and a small bit of a tomato and chilli sauce. It was thoughtful composition and I savoured every bite. It was, as I said, substantial and filling. And it cost just one of these things …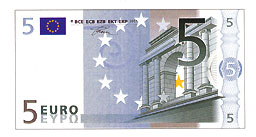 I wanted to stay a while. The Fumbally is a very pleasant place to be in. So, having done the eatforafiver thing, I ordered a flat white coffee and a slice of carrot cake. The flat white was one of the best I've ever tasted and it was hot (most flat whites seem to be served served in unwarmed cups and tend to be luke warm at best). The carrot cake was OK – nothing special. It might have been enhanced by the addition of a bit of bite – walnuts maybe.
The Fumbally is a place I wish I lived/worked closer to. Ironically, we used to live about 100m from it, on Malpas Street, but not anymore. It's great value, very comfortable and welcoming, and the staff (and there seemed to be plenty of them) were friendly and helpful.
I'll go again and I recommend it wholeheartedly.
*Aoife Mc is one of my favourite food bloggers. Her blog is icanhascook and she also tweets, writes a column in The Ticket, hosts a show on RTE 2XM and takes good food pics.
*Nialler9 is an award-winning music blogger (nialler9.com), twitterer, columnist, editor of State.ie and a superb and helpful freelance web designer for whom WordPress holds no mysteries.