Just looked up Buffalo Wings on Wikipedia because I wondered why they were called 'Buffalo'. Turns out that the dish was created in Buffalo, New York. And the other thing I didn't know was that the two parts of the wing have names: drumette and flat. I normally separate the two when I cook them and the only place I've been in that doesn't separate them is Crackbird (which has just re-opened in the old 'Fans' premises on Dame Street, by the way).
The best wings in Dublin (in my opinion anyway) WERE to be found in the Elephant and Castle in Temple Bar. We used to go there regularly, from the time it first opened in 1989. Their wings USED to be plump, juicy and HOT, served with a delicious blue cheese sauce and a few celery sticks. And there were loads of them. Last time we went, the wings were very disappointing. When we remarked on their general scrawniness and less-than-crispyness, the staff member very patiently (and probably not for the first time that day/week/month) explained that the food inspection people had instructed them to change the way they prepared the wings. That was that.
Anyway, I have my Godson Jack (a tall, blonde, handsome lad and an all round nice bloke to boot) to thank for drawing my attention to the €5 lunch deals available at Buffalo 19 in Rathmines, one of which I sampled today.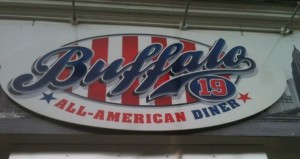 Buffalo 19 (the link is to MenuPages review page) used to be in Kenilworth, in a tiny premises that I think just did take-aways and deliveries. It's now moved to a shiny, bigger place in Rathmines, between Tramco and St Mary's College.
My lads both used to order the occasional take-away to be delivered from the Kenilworth place. In particular, they enjoyed the hot chicken wrap and chips. I had it once and didn't like it, I have to admit. Purely a matter of taste for me: I seem to remember that it was something to do with the sauce they put in the wrap.
Back to today. I was greeted at the counter by a very pleasant smiley woman who asked me what I wanted to order. I ordered the Wings and Fries €5 Lunch Special. She reacted as if I had hit the jackpot, asking me had I ever had their wings before, saying that she didn't want to give too much away in advance but that they were rather good. I paid, was given an order number and the tap water that I asked for.
Thoughtfully, they turned the music down when calling out my number. When I collected my tray, another staff member asked me did I want anything else – ketchup perhaps – and seemed to genuinely express the hope that I would enjoy my meal. I'm kind of labouring this a bit, but this was genuine good and pleasant service. Maybe it's because I'm getting on a bit, but good and pleasant service makes a big difference to how I react to a place. I do understand that it can be difficult for some people who are earning very little, perhaps poorly managed and maybe working in unpleasant conditions to have to put on a pleasant face to customers. I know nothing of the conditions of workers in Buffalo 19 but they seemed to be reasonably proud of the place and their pleasant and helpful attitude would make me want to return.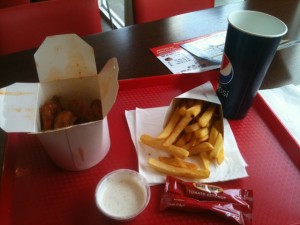 So, the food: the wings came in one of those nice American style take-away boxes that I waxed lyrical about last week. There were 14 bits, mostly 'flats' (hey – now that I know the technical term, I'm going to use it). They were warm, crispy, meaty enough and covered in a decent pepper sauce. The only down side was that they were quite oily – there was a substantial residue in the box when I'd finished. If they could find some way of soaking that up before serving the wings, it would be better. I didn't expect 14 bits of chicken though and, with the chips, I think this represents pretty good value for a fiver. The wings come with a small tub of blue cheese sauce. The sauce is a little thin but it's OK.
The chips were pretty good too.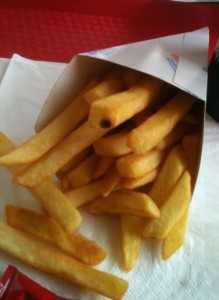 They weren't chip shop chips and they weren't burger joint fries either. They were thinner than the former and thicker than the latter. They tasted spuddy, they weren't greasy and I liked them.
The other items on offer for a fiver, as you'll see from the photo, were a classic burger and chips and a club sandwich and chips.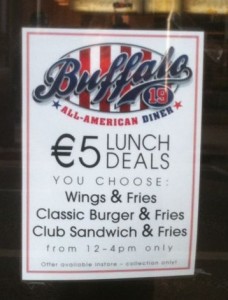 I was tempted by the club sandwich and maybe I'll try that next time I go. I do love wings though. The lunch deals are available from 12 – 4pm.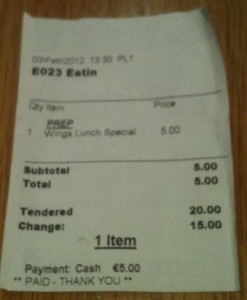 As I said, I think this is pretty good value. The food was tasty and it was a generous serving. Not very heart-healthy but, you know, whatever.
Thanks Jack.